George Clooney in Parade Magazine Pictures
George Clooney Says Aging Has Impacted His Career in Parade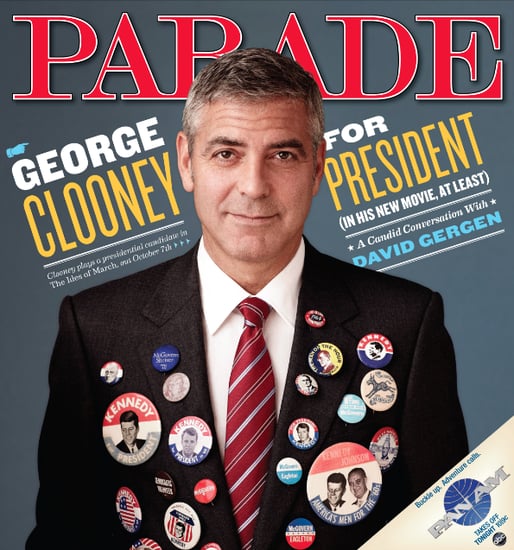 George Clooney is on the cover of Parade Magazine's upcoming issue, and inside the weekly, he opens up about aging on screen and his latest film, The Ides of March. George served dual roles on the movie, directing and costarring opposite Ryan Gosling. He's been traveling to promote the film for months, most recently hitting the Toronto Film Festival, where he had his new girlfriend, Stacy Keibler, by his side. George's relationships have always garnered media attention, but in his interview, he insists he hasn't talked about his love life publicly "in 15 years." Here are some more highlights:
On why he avoids social media: "I don't tweet, I don't go on Facebook. I think there's too much information about all of us out there. I'm liking the idea of privacy more and more. There will be funny things, like I'll read something I've said about a woman somewhere. And I haven't spoken about my relationships in 15 years."
On how aging has changed his career: "I look at myself onscreen and go, 'I don't look like I did when I was 40—I know that.' The people I've respected most in the industry over the years—Paul Newman, for instance. I just loved the way he handled growing old onscreen. It's understanding that you're now basically a character actor."
On how he handled rejection as a young actor: "I had to stop going to auditions thinking, 'Oh, I hope they like me.' I had to go in thinking I was the answer to their problem. The greatest lesson I learned was that sometimes you have to fake it. And you have to be willing to fail."
On why The Ides of March is relevant: "We were in preproduction on this film in 2007, before the Obama election. And then we realized that a good portion of the country was elated with what happened in that election, so we had to shelve the movie until people were cynical again. I didn't think it would be quite this quick [Laughs]."