Gift Suggestions For Movie Tie-In Book Lovers
PopUK Gift Guide: Book Loving Babe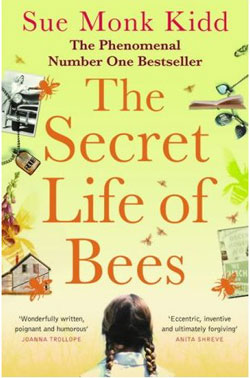 Today I'm bringing you my final gift ideas for female friends and sisters, before I move onto pressies for the men in your life next week. This gift guide is for those pals of yours who love to read and then compare the book with the film adaptation.
First up I've got The Secret Life of Bees, about female solidarity in segregated 1960s South Carolina: the film version hits our cinemas next week. If your friend loves left-field literature, go for my October Book Club choice Choke. In cinemas this week, it's a hilarious story about a sex-addicted colonial-village-working con artist. For a non-fiction off-the-wall comedy, choose Danny Wallace's Yes Man: Jim Carrey's bringing it to the big screen on Boxing Day.
Vampire lovers will be pleased with a copy of Twilight, another December film release, and your friend can stay ahead of the game if you buy her a copy of The Time Traveler's Wife, The Lovely Bones or The Secret Dreamworld of a Shopaholic: she can read the novels before the film versions' 2009 releases. Classics also have 2009 film adaptations, like F. Scott Fitzgerald's The Curious Case of Benjamin Button (with Brad Pitt in the eponymous role come January) and Oscar Wilde's The Picture of Dorian Gray (which will star Colin Firth and Ben Barnes).
Buy your buddy Revolutionary Road and The Reader, and by the time the films are released in January she'll be ready to make comparisons. Kate Winslet stars in both, alongside Leo DiCaprio in the former, and Ralph Fiennes in the latter. The Private Lives of Pippa Lee by Rebecca Miller also has a starry-cast film version out soon.
Finally, for the child at heart, I've got three kiddies' tales which have that crossover appeal as well as forthcoming film versions: Cornelia Funke's fantasy Inkheart, and Kate DiCamillo's The Tale of Despereaux, both come to the big screen in December, while Alice in Wonderland is a wonderful read at any time, and Tim Burton has a film version coming out in 2010 with an all-star cast including Johnny Depp.
Most of these books are on my list for future PopUK Book Club reads, so your friend can join in our discussions when the book club resumes later next year.
To get more ideas for the festive season, visit HolidaySugar.