Gilmore Girls: A Year in the Life's Stars Hollow Musical
Let's Face It: The Worst Part of the Gilmore Girls Revival Is the Godawful Musical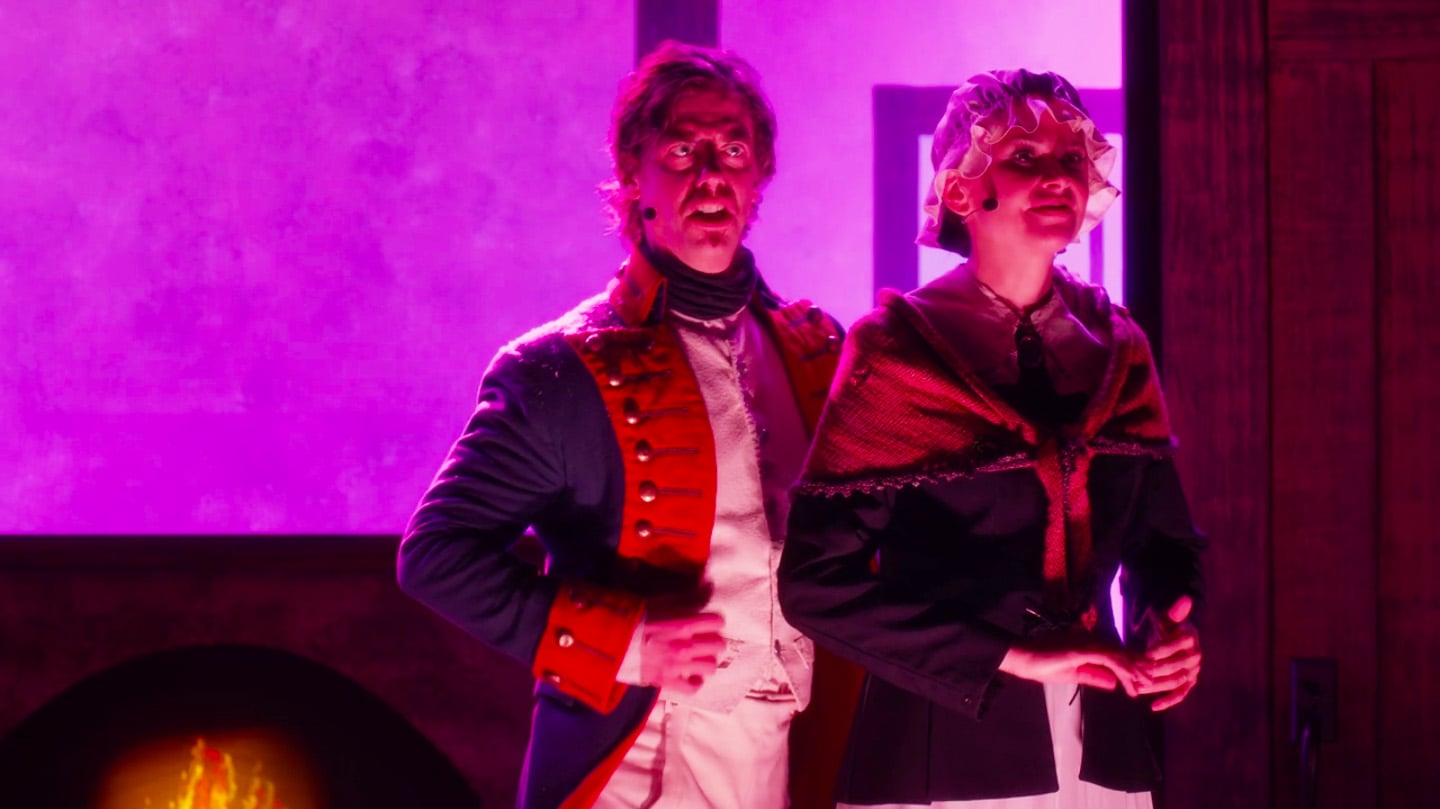 Gilmore Girls: A Year in the Life may not be the high point of the beloved series, but it is filled to the brim with nostalgic moments, cameos, and updates on our favourite characters. There's plenty to love about the series, but there's one thing to hate. No, I'm not talking about the controversial Last Four Words (of which I happen to approve), I'm talking about the musical. My god, the musical! In the "Summer" episode, Taylor Doose outdoes himself by creating Stars Hollow: The Musical, with the help of a creepy silent partner/director. This is when Sutton Foster's highly anticipated role comes into play. She and former Smash star Christian Borle are the leads in the two-person musical. Lorelai is part of the committee to critique a sneak peek, and she's the only one who hates it . . . except for literally all of us watching.
There's so much wrong here. Why is the musical so bad? Why does it take up exactly 10 whole minutes of screen time? Why did we need four whole numbers? (They're called "Working on Building Stars Hollow," "What's There Not to Love about Stars Hollow?," "Unbreakable," and "Love Revolution," in case you were wondering.) Why did a talented and accomplished composer like Jeanine Tesori write such bad songs? Did she know how bad they were? Why is one song about having sex during wartime? Why does everyone think it's so good? Why cast Foster in a terrible role that's going to make us hate her? Why have her square off with Lorelai like a back-alley gangster?
I know I'm not alone. Here's a mere sampling of the fans reacting on Twitter:
15 min musical scene in 'summer' was so painful to watch. Could have used that time for so many other things. #gilmoregirls #AYearInTheLife

— Millie (@Amelia_tee1) November 27, 2016
All of us wondering why the musical is wasting screentime that could be spent on Jess #GilmoreGirls #gilmoregirlsayearinthelife #TeamJess pic.twitter.com/cwCDXZsFT7

— Kayla_G (@Kayla_G12) November 27, 2016
Why did the musical have to take up so much time? Worst part of the revival. Quality time wasted. #GilmoreGirlsRevival #gilmoregirls

— Katrina (@katcarling) November 26, 2016
The general consensus is that Stars Hollow: The Musical could have been novel, if only it were reduced to two minutes. And if the rest of those eight minutes were dedicated to watching Jess comb his hair. Should Gilmore Girls: A Year in the Life return for a second season, let's all hope Taylor hasn't moved on to a dramatic one-man show, à la Kirk.