Gordon Ramsay, Kate Lawler, Ben Fogle, Ronan Keating and James Cracknell Run the London Marathon
Run Ramsay Run!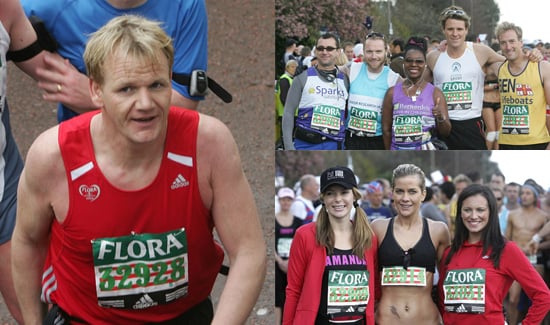 A whole range of celebrities pushed themselves to the limit by taking part in the Flora London Marathon yesterday. The rain may have poured down but that didn't stop Gordon Ramsay, who was running his ninth marathon and completed the 26.2 miles in 3 hours 45 minutes. After finishing the course, which snakes through London from Greenwich to Buckingham Palace, Gordon said: "As I was coming over Tower Bridge, someone shouted, 'run, fat boy, run' - I don't know if they were talking to me".
Other celebrities who pounded the slippery streets of London included Ronan Keating (taking time out from Boyzone's comeback) and Big Brother 3 winner Kate Lawler, who ran for the Cystic Fibrosis Trust in just her Ann Summers underwear. TV presenter Ben Fogle and Olympic rower James Cracknell also joined in, using it as training for their 400-mile race to the South Pole this November. Exhausting stuff!
To see more pictures of the celebs involved, including Amanda Holden, Floella Benjamin and Phil Daniels, just
Images include: Gordon Ramsay, Kate Lawler, Amanda Holden, Melanie Boorman, Floella Benjamin, Ben Fogle, Ronan Keating, James Cracknell, Phil Daniels