Gossip Girl Recap: Season 1, Episode 1 "Pilot"
Pop Watch: Gossip Girl, Episode 1 "Pilot"
Finally! Last night the UK premiere of Gossip Girl hit our screens, with a first episode full of sex (well, a lot of almost-sex), drugs and fashionable clothing. It's been a while since I watched this first episode of the show, so seeing it last night was fantastic – I really enjoyed it yet again. The OC creator Josh Schwartz has the gift of making rich American teens so intriguing. All those beautiful people too – seriously, shouldn't there be at least one ugly friend with money? I guess Chuck Bass is ugly on the inside. Anyhow, I can't wait to hear what you thought of last night's debut, but first I'll give you a quick rundown of my thoughts and we can see if we agree.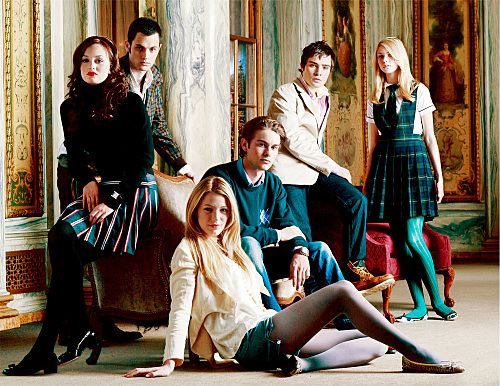 Now, I knew the soundtrack would be good considering how many artists The OC introduced me to, but still, how great is it? The songs are relatively old now as we're watching the show months after it debuted in the States, but it definitely made me rediscover some songs I loved last year. A bit of JT, and that amazing tune from Peter, Bjorn and John right at the start? Fabulous. Here's some of the songs from last night's episode, I highly recommend The Pierces too.
How did you find the narration? Did Kristen Bell's smug voice annoy you a little? Or do you love having someone describing the ins and outs of the Upper East Side to you? I have to say that sometimes it grates on me a bit, but it's so ingrained in the plot and the name of the show that it's pretty necessary. Also, I have a feeling I'll be signing off many things with "XOXO" in the future...
For more of my thoughts, and a recap, just read more
If you need a little memory jog before commenting, here's what happened:
Blonde, beautiful Serena van der Woodsen is back in Manhattan from boarding school, and the word spreads via the Gossip Girl blog on all kinds of mobile devices. Meanwhile, the less well-off Dan and Jenny Humphries (aka the tiny Cindy Lou Who from The Grinch!) are shipped back from visiting their Mum's house to their Dad in Manhattan. Dan has loved Serena from a distance for a long time. Enter classic brunette Blair Waldorf (Serena's ex-BFF) and her bitchy Mum. And here's her boyfriend Nate – he's good looking in an obvious way, but I think he gets better looking as the series goes on with a more rugged edge and a different haircut.
Then there's Chuck. Oh, evil Chuck... I think it puts it lightly to say he's a 'bad boy' – he's the baddest of boys. With a rather eccentric wardrobe. At this stage of the programme I was thinking most of the characters seem really unlikeable, and you might think the same. But as in most TV shows, you will warm to them, layers will be peeled off and circumstances will arise that make you understand some of them, and their characteristics. Although in the case of Chuck, you'll probably just end up loving to hate him (as well as giggling at what he's wearing...). So there's a party at Blair's house, and Serena makes her entrance. Just as Blair and Nate are stripping down in the bedroom. Nate immediately gets dressed to go out and see her, leaving Blair a little miffed.
How about those parents? Rufus Humphries (Dan's dad) is a slightly-past-it rocker who seemed to have a vaguely successful career, what with being featured in Rolling Stone magazine. Could he be a younger version of Sandy Cohen? If so, Serena's mom Lily (Kelly Rutherford) reminds me of a slightly sterner Kirsten Cohen.
Speaking of family, Dan's little sister Jenny is attempting to weave her way in to the cool circle using her artistic talent to get an invite for the "Kiss On The Lips" party. The power struggle between Blair and Serena outside on the steps made me wonder if these two will ever be friends again. There's so much going on there, and later we found out that Serena hadn't even told Blair she was leaving for boarding school. Poor Blair – a mean Mum and a bad best friend, after all, Nate and Serena slept together at a wedding, leading to Serena's disappearance. And the person no-one would ever want to share their secrets with (except Nate) – Chuck – knows about it.
Chuck and Serena's chat in the bar and the kitchen is so uncomfortable, and really shows how dangerous and manipulative Chuck can be. Meanwhile Nate tells Blair about what happened before Serena went away and it breaks Blair's heart. Chuck tries to use the information he knows to have his way with Serena, so she kicks him in a place guys don't like to be kicked. Rightfully so. And as she's rushing out she bumps into the pining Dan, who pines from a distance a little more.
Nate wants to take a break from Blair, but gets pressure to stay with her from his Dad, who wants to do a business deal with Blair's Mum. What a happy relationship this is going to be. And then comes Dan's unsuspecting 'Knight in Shining Armour' moment, as he became Serena's saviour out of circumstance. Which lead to him finally getting a date with her! Hurrah – something good is happening!
Back in the land of the not-so-happy, Blair and Nate are trying to stay civil in their relationship, but Blair's controlling tendencies (although who can blame her following his confession?) start to grate on Nate. And how about that flirty tension between Dan's dad Rufus and Serena's mum Lily? Interesting.
The party begins and Chuck has his beady eyes on Jenny, "I love freshmen, they're so..." "Fresh?" Oh no. Meanwhile, Dan is adorably charming with Serena and all is going well. Superb! But naive young Jenny actually goes off with Chuck on her own, to the roof. She texts Dan to let him know she's in trouble and Dan rushes to the party with Serena. Her appearance causes quite a stir and multiple mobiles beep and vibrate with this news. Chuck gets very close to committing a crime on the roof, but Dan and Serena burst out there in the nick of time and Chuck gets injured again, this time by Dan. Chuck's obviously a guy very used to getting his way. Ugh. And he vows revenge...
So that was the first episode! Done and dusted. What did you think? Who are you crushing on? Which styles do you need to steal already? And most importantly, will you be watching next week?
You know you love me...
XOXO