Gossip Girl Recap: Series 1, Episode 3, "Poison Ivy"
Pop Watch: Gossip Girl, Episode 3, "Poison Ivy"
In last night's installment of Gossip Girl it was "Ivy Week" at school, which is a time for our favourite rich girls and boys (and Dan) to impress the representatives from the top US universities. Over at FabUK my buddy's put up her weekly fashion quiz about the show, and here's some of my thoughts about the episode, which was beautifully named "Poison Ivy":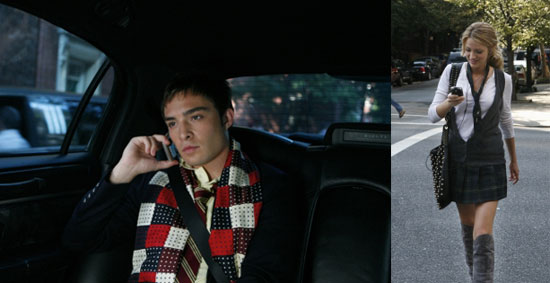 The choir's version of Fergie's "Glamorous" was so wrong. Who would teach a school choir that song!? Although it took me a little while to get what it was... did it make you giggle?
First fabulous Chuck wardrobe moment of the episode – that checked scarf of course. The second was the way he changed up his uniform slightly by putting his collar up. A lovely flourish!
So the classmates were in competition to be ushers to the university representatives who were visiting for a mixer. Nate's getting pressure to go to his Dad's alma mater Dartmouth, which is where Dan wants to go. The usher interviews were a little cringe-inducing, well Dan's was at least. Of course due to his family name (and in spite of his complete indifference about the uni) Nate was chosen as Dartmouth usher.
Serena managed to miss the assembly announcing Ivy Week, but who cares because she is wearing some hot boots! Oh, and could her hair be any more perfect all the time? Also I loved her outfit at the mixer. Cute.
For more of my thoughts, and to leave your own just read more
My favourite Blair line of the episode – "Brown doesn't offer degrees in 'slut'." What a bitch. The hockey scene that followed looked like a good way to take out aggression, my boyfriend actually looked up from the book he was reading when they began fighting. Wonder why?!
After the fight Chuck and Blair teamed up to get some dirt on Serena. Blair is now all about revenge. Which led to crazily crossed wires and Blair jumping to the conclusion Serena was in rehab. Sadly it was her brother Eric who was in a treatment centre since he tried to kill himself.
Blair's speech at the mixer stooped so low. So low. If you're listening Blair, I'm so disappointed in you. But Serena went along with her story to protect her little brother Eric.
I liked that Eric and Jenny bonded, the little siblings of Dan and Serena are sweet.
Favourite Chuck line of the episode – "I'm trying to get into Princeton." Oh dear Chuck. It was all in the delivery.
I liked the moment when Dan helped Nate out with information about the Dartmouth rep, and Nate told Dan to go over and take the drinks to him so they could chat. Nate's a nice guy, if a little bland / dim.
And finally, the ending. The teen drama was amped up to 11 at the end in the tear-filled discussion between Serena and Blair. So, do you think they're going to be friends again now? Or pretty much stay frienemies?
So that was this week's episode – as always I'm dying to hear your thoughts, so leave me a comment below!
Until next week, XOXO