Gossip Girl: Series 1, Episode 2 "The Wild Brunch"
Pop Watch: Gossip Girl, Episode 2, "The Wild Brunch"
I'm really hoping that some of you caught up with the first episode of Gossip Girl last week, and watched the second episode last night. As my American colleagues and readers commented on last week's post, this show gets better and better, so do stick out the early scene-setting episodes. I hope you found last night's episode a little warmer, there was certainly more humour in this one!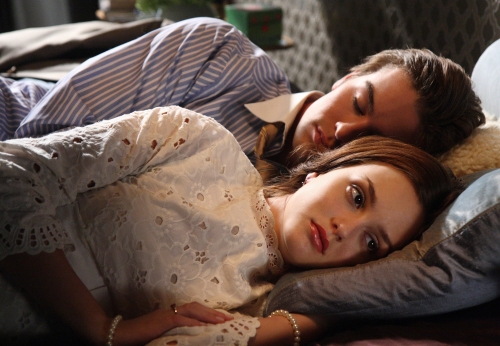 So, it was the day after the 'Kiss On The Lips' party. Serena and ex-best friend Blair were in the midst of a cold snap, as Blair learning that Nate slept with Serena before the latter disappeared to boarding school. Then Serena took outsider Dan to Chuck's brunch, causing a few awkward situations. And Jenny found her way into being accepted into Blair's inner circle... mainly, of course, because this benefits Blair's scheming ways. So here's some of my thoughts on last night's episode:
Dan's little embarassing wave was so endearing, and the follow up of Serena and Dan confused talking to their little siblings was cute. Yes, I am liking Dan – the more humour the better!
Blair's being a bitch – she really needs to stop being led by Chuck. Serena's much warmer, so despite her wrongs I'm pretty "Team Serena" right now. This doesn't mean I don't like Blair though, she's so bitchy she's fabulous!
Oh-so-bland Nate woke up after the party at Chuck's place, where Chuck was in bed with two of his father's hotel staff. He's so morally corrupt. Loved the comment Nate made about Chuck strangling people with his scarf – "Don't mock the scarf Nathaniel, it's my signature." Beautiful.
I love the episode title. Just had to say it.
For more of my thoughts on last night's episode, just read more
Jenny's slowly moving into Blair's circle, finding out Jenny's brother Dan is Serena's latest love interest definitely helped their friendship move up a level. She's a scheming one, that Blair.
What's up with Lily and Rufus? We know they have a past, and a little spare chemistry, but is this a couple we want happening in the future? I like seeing the parents happy, but it would put a spanner in the Serena/Dan works. Lily also seems to be secretly taken by Chuck's Dad.
Nate and Dan's awkward conversation while waiting for Serena amused me, especially when Chuck showed up in his pastel green cardigan and wanted a fight. Ah, boys...
And what a brunch! How ostentatious – I loved Dan's little interaction with the people in body paint hired to act as statues. Also (unsurprisingly) loved Chuck's faintly ridiculous pale pink brunch outfit. Give those stylists an award!
So Dan found out about Nate and Serena... but surely it shouldn't matter too much to him. It's in the past – she made a mistake, he's been lusting after her for years for goodness' sake!
Finally, I have to agree with Molly on this – nothing makes a party go off with a bang like a Ryan Atwood punch. Something sadly missing at the Brunch.
I really enjoyed this episode, and I'm dying to hear your comments – I hope you've stuck with it. So what did you think? Let me know...
XOXO