The Great Gatsby Movie Full Casting List
Casting Update: Who's in For The Great Gatsby Movie
Baz Luhrmann's forthcoming film adaptation of The Great Gatsby has been slowly coming together for months now, and a major piece has just been added to the puzzle: Joel Edgerton will play Tom Buchanan. The Aussie actor joins some of Hollywood's finest, but the rumors and recast news have been a bit difficult to keep track of. That's why I've compiled the current cast right here so you can see who's who in the upcoming film.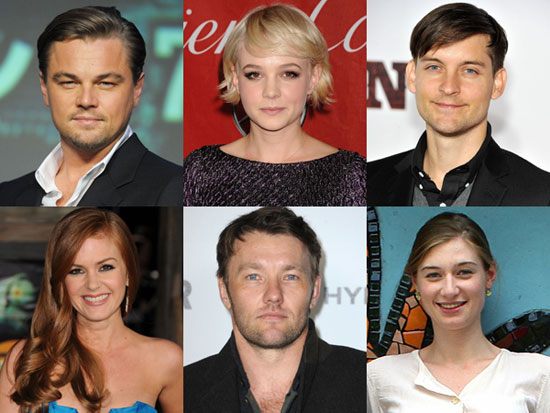 Leonardo DiCaprio will play Jay Gatsby, a mysterious millionaire who throws lavish parties at his home in the West Egg neighborhood on Long Island.
Carey Mulligan will play Daisy Buchanan, an attractive but spoiled young woman who lives in the East Egg with her husband, Tom, and has an affair with Gatsby, whom she was in love with before getting married.
Tobey Maguire will play Nick Carraway (who narrates the novel), Daisy's cousin who comes to New York after fighting in World War I and is pulled into the world of Gatsby's parties for the rich and their drama.
Isla Fisher will play Myrtle Wilson, Tom Buchanan's mistress.
Joel Edgerton will play Tom Buchanan, Daisy's husband and millionaire who is a former football player. (The role was originally attached to Ben Affleck.)
Newcomer Elizabeth Debicki will play Jordan Baker, a pro golfer and friend of Daisy's who takes a liking to Nick when he comes to town.
Jason Clarke, who most recently appeared on the now-defunct TV series The Chicago Code, will play George Wilson, Myrtle's husband.
If you're a fan of the novel, weigh in — how do you feel about the way the cast is shaping up?