The Greatest Showman True Story
The True Story of PT Barnum, aka the Greatest Showman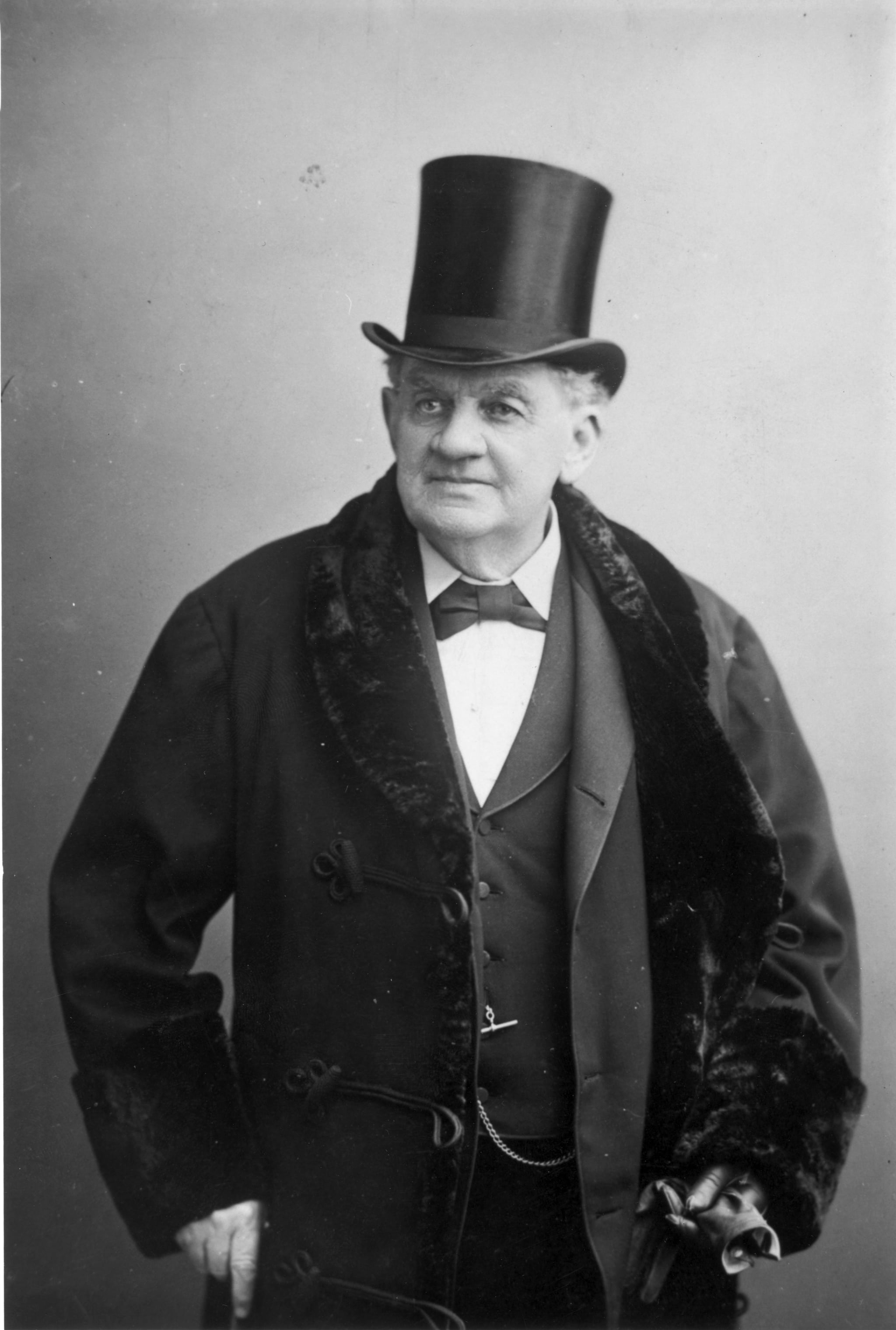 Phineas Taylor "PT" Barnum has captured the imagination of millions for over a century. Dubbed the "the Greatest Showman," which also happens to be the title of a new film about him (in cinemas now) Barnum would become part of the widely successful Barnum and Bailey Circus that travelled the globe until this year.
This latest biopic about Barnum, starring Hugh Jackmam, isn't the first, either; however, it might be the flashiest. Previous adaptations about the colourful circus promoter included The Mighty Barnum from 1934, The Greatest Show on Earth, made in 1952, and Barnum from 1986, among others.
Barnum was born on July 5, 1810, in Bethel, Connecticut, USA. He helped to launch the careers of many famous circus acts such as Chang and Eng, General Tom Thumb, and Nora Hildebrandt, the first professional tattooed lady, among others.
Barnum was a natural at selling products and was already peddling sweets and alcohol at age 12. Despite the critical success Barnum would come to have within the circus, he worked many other jobs over the course of his career, including being salesman and a promoter, and he was even in newspaper publishing for a time.
Barnum's exceptional salesman skills took a turn when, in 1835, he paid $1,000 for Joice Heth, an older slave woman. Barnum concocted the story that Heth was 161 years old and was a former nurse to George Washington. Barnum and Heth then travelled around the Northeast together, and Barnum would exhibit her, earning a reported $1,500 per week telling his tall tale.
An article from the Pennsylvania Inquirer in 1835 described Heth this way:
"The citizens of Philadelphia and its vicinity have an opportunity of witnessing at Masonic Hall one of the greatest natural curiosities ever witnessed, viz., Joice Heth, aged 161 years, who formerly belonged to the father of Gen. Washington. She has been a member of the Baptist Church 116 years, and can rehearse many hymns and sing them according to former custom."
Barnum's stunt with Heth would be his first entrance into show business, and it would stick. Six years later, in 1841, he purchased the Scudder's American Museum that he renamed Barnum's American Museum. Barnum displayed many oddities and curiosities in it over the years, including General Tom Thumb, the "Feejee Mermaid," and countless exhibitions. This kind of museum (a dime museum), which was located in lower Manhattan, was a growing form of entertainment in America. The dime museum was a place that people could attend to see unique exhibitions and acts for a low price. This museum was the first time in history where freak show acts and other forms of entertainment would come together to create a unique experience for those who came to see it.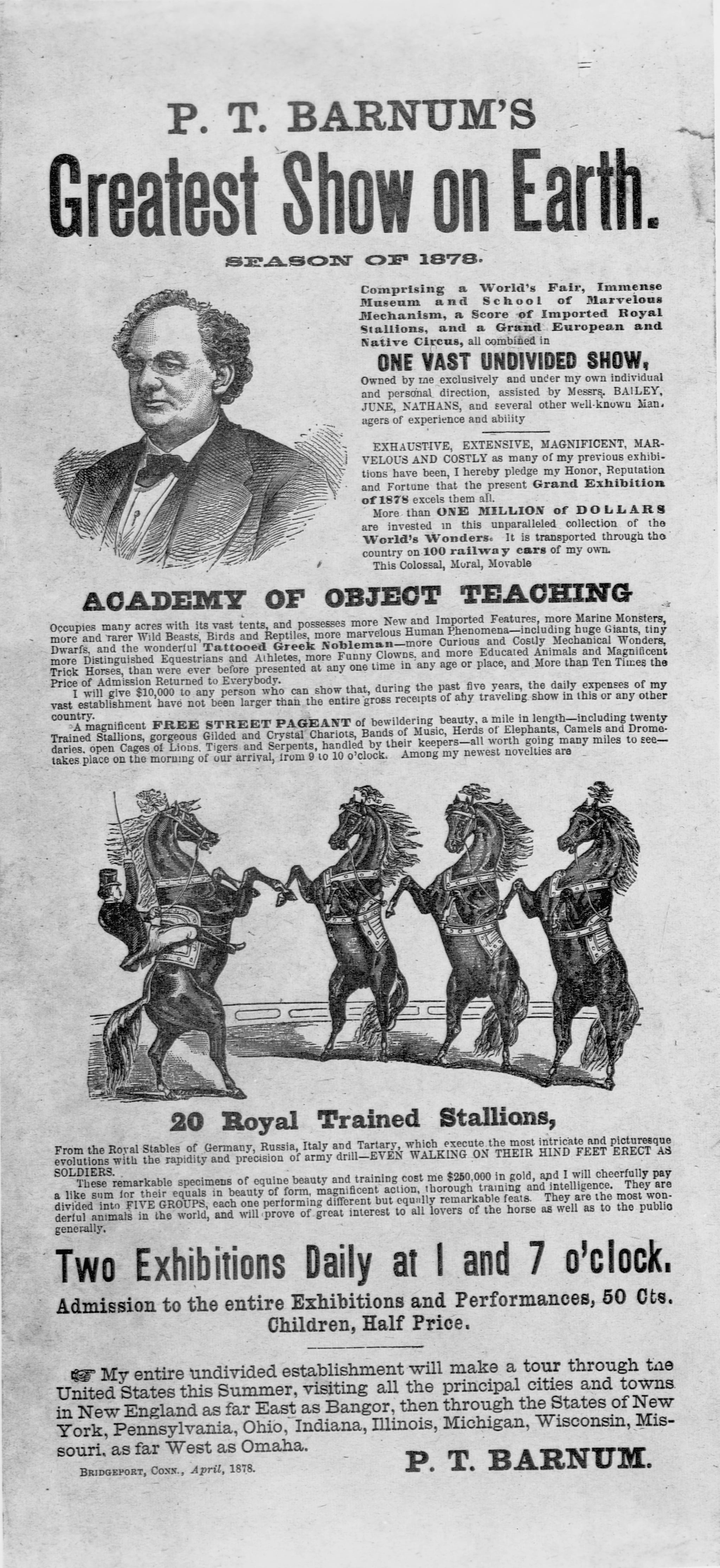 The museum remained open until 1865, when it burned down in a fire. After the fire, Barnum again had to reinvent himself. In 1871, Barnum joined forces with circus owners Dan Castello and William C. Coup to kick off P.T. Barnum's Grand Travelling Museum, Menagerie, Caravan, and Hippodrome. This new venture would come to be known as the "greatest travelling show on earth," and Barnum would go take full ownership of it in 1875.
Six years later, he would team up with James A. Bailey and James L. Hutchinson. This new partnership helped Barnum secure cutting-edge acts including animals such as Jumbo, a six and a half ton elephant from the Royal Zoological Society in London. Jumbo, like so many other acts that had graced the Barnum circus stages, was very popular with circus-goers.
In 1887, the circus would be rebranded as the Barnum and Bailey Brothers Greatest Show on Earth. This also signalled another transition in Barnum's life, and old age began to set in. Barnum passed away in 1891, leaving behind a long legacy that single-handedly launched the US entertainment industry.