Green Lantern Shows First Footage at Comic-Con With Ryan Reynolds, Blake Lively, and Peter Sarsgaard
Green Lantern Shines at Comic-Con With Ryan and Blake
My girl Buzz wasn't alone in her excitement for the Green Lantern panel — Comic-Con fans started camping out in line the night before to get a glimpse of the flick, and probably Ryan Reynolds, too. She was happy to report back that they weren't disappointed. DC Comics brain Geoff Johns kicked it off with the very first teaser trailer, and it was much more satisfying than just that photo we saw last week. Reynolds, Blake Lively, Peter Sarsgaard, and Brit actor Mark Strong came out to talk up the film — even though they're still keeping mum on any spoilery details. Here's Buzz's report from Comic-Con: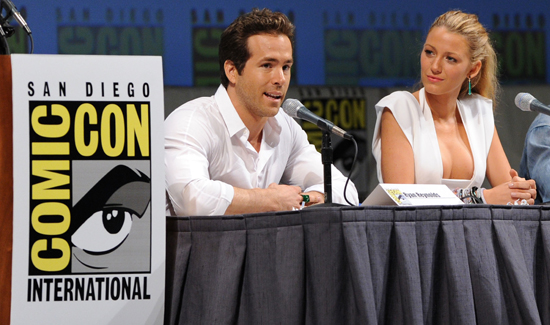 The teaser trailer doesn't show much — hence, why it's a teaser — but we do see more of Reynolds's Hal Jordan than his alter ego Green Lantern (in fact, I don't recall seeing him in costume during the clip at all); however, we do get a peek at the famous ring the hero wears. Lively is brunette, and Peter Sarsgaard is virtually unrecognisable underneath the heavy makeup (and ginormous head) he wears as Hector Hammond. The tagline at the end of the preview: "Await further contact."
When asked about what it's like to be married to a fellow comic hero (wife Scarlett Johansson plays Black Widow in the Iron Man franchise), Reynolds laughed and remarked: "We've had some strongly worded dinners. We probably have more comic books lying around than your average married couple."
Reynolds described his version of Hal Jordan as an "amalgamation between Chuck Yeager and Han Solo." "He can tell a joke, throw a punch and kiss a girl," said Reynolds. "Who wouldn't want to play that for a movie? Let alone two or three." He wasn't the only one who hinted at a sequel — or better yet, a full franchise. Screenwriter Greg Berlanti also alluded to more films, as did Johns. Get ready for a full series, fans!
To hear more about the film, read more.
Lively plays Carol Ferris in the film, and the actress shared her enthusiasm for a part that isn't the typical damsel in distress: "She gets to save Hal a few times," she bragged. Ferris is a past love of Jordan's but also a competitor. Lively promised plenty of verbal sparring between her and Reynolds in the film, but if there are future films to continue on with the story, she'll evolve into a villain to Green Lantern. "I can't wait to kick his butt!" she said.
Sarsgaard shed some light on Hector Hammond, summing him up as "the kind of kid who licked the battery or went up to the roof with a coat hanger in a lightning storm." Mark Strong also spoke a little about Sinestro, Hal's mentor of sorts who later turns on him — though it doesn't sound like we'll see his bad side in this first film.
In my favourite moment of the panel, a little boy went up to the mic to ask Ryan Reynolds about the Green Lantern oath. In response, Reynolds recited the oath, and then did an air fist-bump to the kid (who happened to be wearing his own Green Lantern ring). All of the ladies in the audience swooned.
Best question asked: What costume would you wear to Comic-Con? Blake Lively replied, "Harry Potter. He's not a superhero, but he's awesome." Reynold's answer: "I'd go with a Wookiee, because I'd like to be cute and dangerous."
As for those rumours about a Justice League movie, the very tight-lipped Johns said it's "always a possibility," but that "the success of Green Lantern will really lead the charge." By the looks of the panel, the film's success seems like a sure bet.
Be sure to check out all of Buzz's Comic-Con coverage and follow her on Twitter for live updates!