Gwyneth Paltrow's Iron Man Spin-Off
Gwyneth Paltrow, Superhero?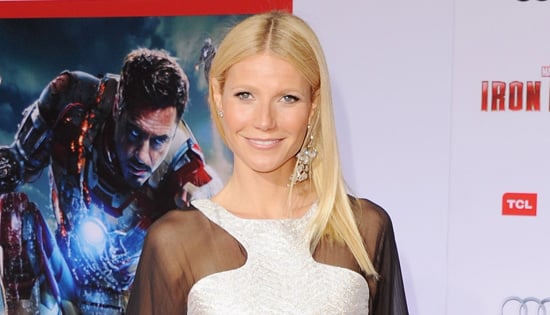 Gwyneth Paltrow hinted that more action films may be in her future when she spoke to a group of mommy bloggers in LA. It's no secret that Gwyneth's character Pepper Potts gets to try on the Iron Man suit in the forthcoming Iron Man 3, and the actress revealed that she loved doing action scenes. She said, "She's in the suit and flying around, and I loved doing the stunts. . . . I felt like I should've been doing this my whole life. It's like, 'Why am I doing all these period films? It's so boring.'"
Gwyneth also let slip that journalists have been telling her that Pepper should get her own spin-off based on her comic book alter ego, Rescue. She said, "They were like, 'Oh my god, you have to have your own movie,' because in the comics, Pepper gets her own suit, and she becomes a character called Rescue. They're like, 'We need a Rescue movie,' and I'm like, 'Okay, well, I'd better hit the gym.'" In the meantime, Gwyneth will be preparing for the premiere of her new film, which hits theaters today, as well as Monday night's 2013 Met Gala, which she will reportedly attend while wearing Valentino.