The Hangover 2 Entertainment Weekly Cover With Bradley Cooper
The Hangover Boys Monkey Around For EW
We're just a couple weeks away from The Hangover Part II, the highly anticipated sequel to the 2009 comedy that made Ed Helms, Bradley Cooper, and Zach Galifiankis household names. There's a lot riding on the second part of their story, and the guys sat down with Entertainment Weekly with director Todd Phillipps to talk about the perils of shooting in Thailand and why they'll always keep coming back for more Hangovers.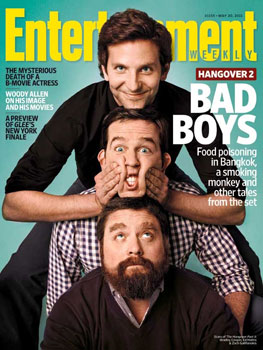 Galifianakis on the script: "I remember thumbing through it, going, 'Oh God. Oh God.'"
Cooper on filming in Bangkok: "It was the hardest shoot I've ever done for sure. Nothing ever even came close to it. I thought A-Team was brutal: I got injured and it was f*cking ing six months of . . . not even close! One criticism you could never make about this movie is that we just phoned it in. Even if it fails miserably, it's not for lack of trying."
On making the sequel out of love for each other:
BC: "There's no other reason. If anything, why would you do it? There's more downside than upside."
Phillips: "You can't beat what you've done. You can only lose in this position. But we just love hanging out with each other."
Helms: [Laughs] "We're going to be ramming Hangovers down America's throat for the next three decades."