Helena Christensen On The Front Cover Of InStyle UK April 2009, Plus Interview Extracts On Turning 40, Motherhood, Food and more
Helena Christensen Talks Age and Attraction
April's issue of InStyle magazine features stunning model and mother Helena Christensen on the cover. She answered a few questions about her son, her dating habits, food and how she looks so fabulous at 40 (her birthday was on Christmas Day). Here's a few extracts from the interview: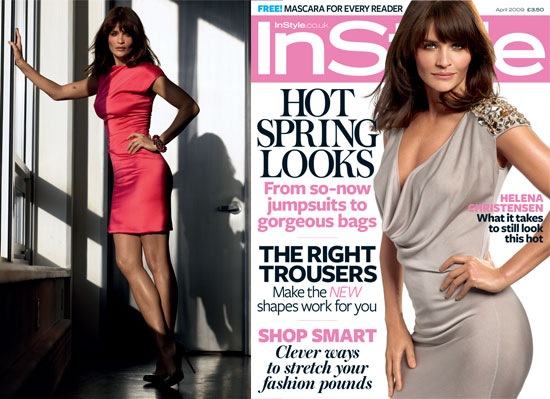 On food: "Oh my God, I'm obsessed! It takes up 75 per cent of my brain. I cook every day for my son and even if I'm going out for dinner, I'll have a bite of what I made for him and then be like, 'Oh, there's three hours left until dinner', and, suddenly, I've eaten a whole bowl."
On cohabiting:"I've never lived with anyone except my son... because my life is travel, so it just happened that way. It's not like I set out to live like that, but now it would be a big thing to move in with somebody. I'm used to my own place, my own things. But you know, if I met the right person, I'm sure I'd be like, 'Move in tomorrow, put your things everywhere'. That would probably work for a while and then I'd need a bit of balance!"

To read Helena's thoughts on motherhood and dating, and turning 40, just read more.

On motherhood making it harder to date: "I think it's a good thing actually. Because your child is your first priority, you're more selective, so in order to let someone into that world, they have to be really special You cut out the bullshit that you might fall for if you didn't have responsibilities."
On dating creative types: "It's really about what circles you move in. There's just a bigger chance of me running into someone in the entertainment business. I don't have anything against meeting a cool, funny doctor or lawyer, it just hasn't really happened. It'd be good to have a doctor in the house!"
On turning 40 last December: "Age in itself doesn't freak me out. I'm in better shape than I was at 25 because I'm actually doing something physical, which I never did until two years ago because I was way too lazy. I'm still really lazy about it. I try to go boxing twice a week and I run, but after exactly 21 minutes, I'm ready to lie down and vomit. I'm super-lucky with my metabolism. I eat more than anyone I know, so I have to be realistic – that might not always be the situation. That's why I chose really intense training. It was a question of, if I want to continue eating that much, I need to balance it out."
To read the rest of Helena's answers, check out the April issue of InStyle magazine, which is available now.