Hello Exclusive Samantha Burke Interview About Jude Law and First Pictures of Baby Sophia
Samantha Burke Shares Jude Views and First Pics of Sophia
Samantha Burke has finally opened up about her relationship with Jude Law in an exclusive interview with Hello magazine. She shares the first pictures of five-week-old baby Sophia and talks about how she met Jude and why they broke up, confirms that Jude is yet to meet his daughter, and reveals Sophia is already taking after her father. Here are the highlights: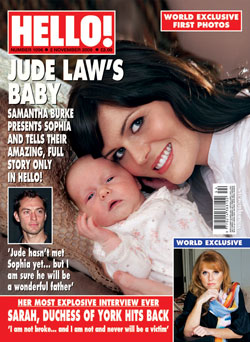 On Sophia's features: "She has Jude's chin and nose, and she does a little pout, that I notice he's done before."
On whether Jude has visited them yet: "There are no plans for it to happen at the moment, but I know he's busy."
On her relationship with Jude: "I ran into Jude in a nightclub one night. I instantly knew who he was, but he seemed really funny; he was cracking jokes with people and he included me in that. The next thing I knew I was on the pavement outside, being twirled around – it was a lot of fun. Following that initial meeting, Jude and I went out several times. He was a lot of fun to be around, always making me laugh and smile."


To find out why their relationship ended, how Sophia is showing signs of following her father's career, and Samantha's hopes for her future with Jude, read more.


On why their relationship ended: "I was scheduled to move to Pittsburgh to help care for my grandmother. Around the same time, Jude was wrapping up his shoot in New York and I knew that he would be heading back to the UK. I knew that as we headed in separate directions our relationship would not continue. And I was okay with that. I was living in the moment and I really enjoyed all my time with Jude. I really have no regrets."
On why she waited to tell Jude about the pregnancy: "I needed time to come to terms with it myself before telling him. By the time that I attempted to contact him, he had been back in the UK for quite a while. The US-based number that I had for Jude no longer worked. Shortly after that, my representative spoke with one of his."
On how Sophia takes after Jude: "He's very talented, and she might be just as talented, too: she might take after him. She's already quite theatrical – I've noticed she makes a lot of dramatic moves!"
On her future relationship with Jude: "It would be great if we can have a friendship and be cordial. I want everything to be positive around Sophia, I don't want any negativity. I'm really easy to get along with, so hopefully we can work things out."
I'll be interested to see how Jude responds to Samantha's words and the publication of the first picture of baby Sophia. What do you think of Samantha's interview?
Read the full interview in Hello! out now.