Holly Willoughby and Sam Heughan Flirting on Twitter
Holly Willoughby Has Been Flirting With Sam Heughan on Twitter, and You Know You'd Do the Same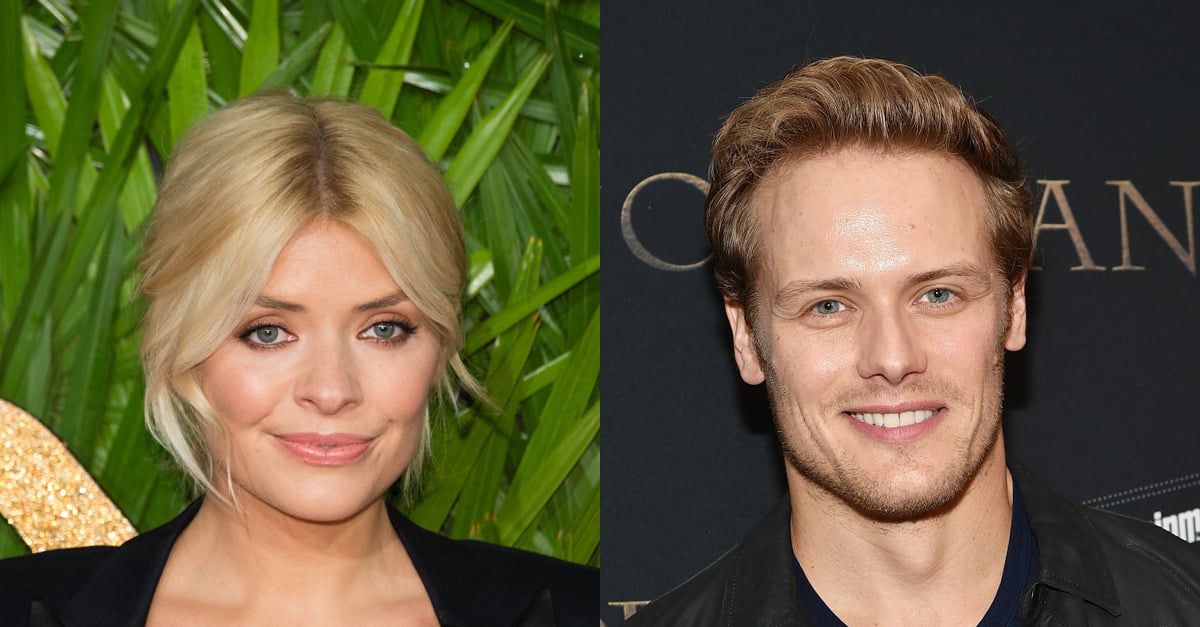 Many of us would give anything to be able to get in a cheeky flirting session with the ultragorgeous and incredibly talented Sam Heughan, but all Holly Willoughby had to do was send a tweet. Yep, life can really be unfair sometimes!
On Wednesday, the This Morning presenter shared a picture of herself holding an Outlander poster featuring Sam, and what followed was an extremely flirtatious exchange between the two stars, who talked about getting each other Christmas presents and perhaps even organising a trip to This Morning studios for Sam and his costar Caitriona Balfe. Us? Jealous? Just a tad.
Read on to see the full exchange, then take a look at the sexiest (borderline NSFW) scenes from Outlander.
It all started when Holly received a pretty great present and tweeted about it.
Best pressie ever! Thank you sonypicturestvuk #outlander #vivelesfrasers 🌟 https://t.co/RpLsz96JB0

— Holly Willoughby (@hollywills) December 6, 2017
Sam replied, asking Holly for a signed photo of herself (and Phillip Schofield) and flirtatiously offering to visit the presenter on the set of This Morning.
What are you getting US for Xmas Holly?

Any chance of a signed photo of you (and Mr S!)😘

Better yet, why don't we come visit @thismorning ....
💫 💫 @Outlander_STARZ https://t.co/90V6sHRMhB

— Sam Heughan (@SamHeughan) December 6, 2017
Of course, Holly couldn't refuse such an offer and sent an open invitation.
Open invitation for whenever you can... I'm working on the present! ☺️ https://t.co/kpKamMGggs

— Holly Willoughby (@hollywills) December 7, 2017
Sam immediately replied, saying that he and his costar Caitriona Balfe were on their way . . .
COMING!!!!! (Runs out door)@caitrionambalfe get your Xmas sweater on, we're going to London.

Think @Schofe drinks whisky? Holly? https://t.co/ddGkJYmNzn

— Sam Heughan (@SamHeughan) December 7, 2017
And she also sounds excited at the idea!
I'm packed and ready !!!

— Caitríona Balfe (@caitrionambalfe) December 7, 2017
So, forget about women who give up men to sleep with ghosts — all we want need to see is Holly interviewing Sam.
Image Sources: Getty / Stephane Cardinale and Getty / Mike Coppola