The Hunger Games Instagram
Check Out an Exciting New Poster For Catching Fire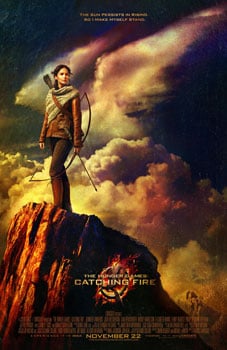 Lionsgate has just revealed the first official poster for Catching Fire (not to be confused with the motion poster or victory tour propaganda). It's pretty cool, too: a vintage-looking Katniss ponders the meaning of life atop a bluff with her trusty bow and arrow in hand, along with a quote from the novel: "The sun persists in rising, so I make myself stand." I still wish we could get a peek at the new arena, but I'll take what I can get for now. How do you feel about the new one-sheet?
But wait — there's more exciting news on the Hunger Games front: Lionsgate has launched an official Instagram account for The Hunger Games, so be sure to check it out for all the latest updates on Catching Fire.
Check out a much bigger version of the poster when you read more.