I'm a Huge Fan Gwyneth Paltrow Video Series
What's It Like to Meet Gwyneth Paltrow? Watch Our I'm a Huge Fan: Gwyneth Series!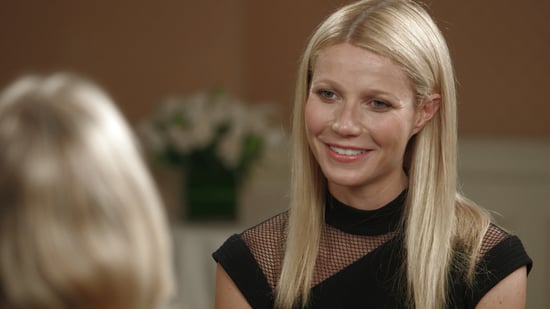 It's no secret that Gwyneth Paltrow is having a moment. She transformed into an action star for Iron Man 3, which hit theaters today. She's become a lifestyle inspiration in fitness, fashion, healthy living, cooking, and so much more for women around the world. She's a devoted wife and mom to her two kids, and she's still able to keep it real — and refreshingly funny! — with her girlfriends. In our I'm a Huge Fan: Gwyneth Paltrow series, watch as our winner, Sara from San Antonio, TX, comes to LA to embark on the experience of a lifetime, all leading up to her big interview with Gwyneth.
Watch as Sara gets a peek into what makes Gwyneth tick — talking to her business partners Tracy Anderson and David Babaii, seeing her favorite LA spots, trying out her healthy cooking, visiting her fashion BFF and go-to designer, and getting into the action at the stunt studio that challenged Gwyneth in a way she's never been challenged before. See it all through Gwyneth's eyes with her insight into all these things, and watch as she chats with her biggest fan about life, love, and her favorite Coldplay songs.
To see Sara's whole journey and hear from Gwyneth herself, just read more.
Part One
Meet Sara, the lucky winner who is about to embark on her I'm a Huge Fan journey to meet her role model and inspiration, Gwyneth Paltrow. After flying out from San Antonio, TX, Sara, who is a local store owner there, gets a peek inside Gwyneth's world. First stop is the new David Babaii blow-dry bar inside the new Tracy Anderson Studio flagship location. Gwyneth talks to us about why she partnered with both David and Tracy on the new concept. Sara also gets to talk to Tracy about working with Gwyneth on everything she does.
Part Two
In I'm a Huge Fan: Gwyneth Paltrow part two, our winner Sara gets to meet Gwyneth's stunt double from Iron Man 3. Gwyneth talks to us about what it was like taking on intense stunts for the first time and why it was so fun to become an action star at 40. Then, Sara is off to one of Gwyneth's favorite shopping spots — the Stella McCartney store. Stella is one of Gwyneth's closest friends, and her stylist tells us some of her go-to fashion tips.