Immortals 2011 WonderCon Quotes and Pictures, Including New Superman Henry Cavill
Fans Go Wild For New Superman Henry Cavill at WonderCon's Immortals Panel
Henry Cavill was announced as the new Superman just two months ago, but at WonderCon today, it quickly became apparent that the handsome hero already has a following. Cavill took the stage along with Luke Evans and Isabel Lucas, director Tarsem Singh (The Cell, The Fall), and producer Mark Canton (300) to present never-before-seen footage from their upcoming mythology action flick, Immortals. Freida Pinto, Mickey Rourke, and Kellan Lutz also star, though they were unable to attend (Lutz unfortunately missed his flight after a Breaking Dawn shoot went until 6 a.m. this morning!).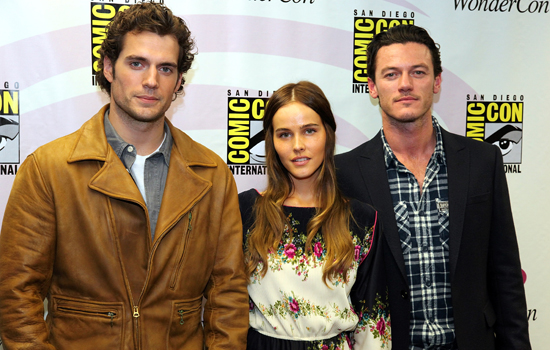 The movie tells the story of the Greek Perseus, a warrior who gets handpicked by Zeus (Evans) to save humankind from evil King Hyperion (Mickey Rourke). Lutz plays Poseidon, Lucas steps in as Athena, and Pinto costars as Perseus's love interest. But even though the stars were at WonderCon to talk about their new action project, Superman was a very hot topic.
Canton and Singh opened up the show with a first-ever look at footage from Immortals. The clip showcased Cavill and his crazy physique from training for the role, along with quick moments from other members of the cast (though I didn't catch Lutz in the teaser unfortunately). But more so than the actors, Singh's visual aesthetic is the obvious star of the project. The director said he approached the film as a mix between a Caravaggio painting and Fight Club, but mainly, it feels very reminiscent of 300 — and no wonder, since it has the same producers. The camera shots are artistic and several of the scenes are in slo-mo for maximum dramatic effect.
One difference audiences may notice is the young spin the film is taking with some of the characters. At only 32, Evans is nearly half the age of the most recent version of Zeus we've seen onscreen (Liam Neeson), but director Singh gave an explanation that actually makes a lot of sense: "If you wanted to live forever, would you want to look like anyone in their 40s or 50s or 60s, like me and Mark, or would you want to look like that?"
For more on the film, plus what Cavill had to say about Superman, read more.
The cast sort of chuckled when asked to talk about working with the infamous Mickey Rourke. Cavill called the actor a "fantastic presence alone, just to stand next to," and said it was easy playing off Rourke's villain character because Rourke is "a scary dude." As for how Singh directed Rourke in the film, he simply said, "You don't direct Mickey."
Cavill called the film's action scenes "enormously demanding" physically, and he underwent serious training for the role to get his six-pack. His regime included a lot of cardiovascular exercise, mixed martial arts, and he noted, "eating very little."
Singh addressed concerns over cinema's usual depiction of Greek mythology, and was up front about the fact that he's taken some liberties in order to bring them to the screen. He says the film isn't meant to be completely true to the ancient tales, since they're also rife with inconsistencies, and he joked, "You can't do mythology without pissing off a lot of people."
And then came the Superman questions. Fan after fan (mostly ladies) lined up to ask Cavill about taking on the iconic superhero. He revealed that his Superman suit "is in development" so he hasn't tried it on yet, but he seemed almost embarrassed by the onslaught of attention (though Singh got a big kick out of it and teased the actor for hogging the spotlight!). When one woman questioned how he's going to handle the new fame, Cavill modestly replied, "I have no idea what to expect, so I'm just going to wing it and play it by ear."