Interview With Angelina Jolie About Family, The Tourist, Brad Pitt, Directing a Movie
Angelina Jolie on "Playing Vivienne" in The Tourist, Becoming Ladylike, and Her Directorial Influences
Angelina Jolie stepped out for the first day of her The Tourist press junket in Paris yesterday. She looked simple and gorgeous in grey as she braved the snow to chat about her glamourous new movie. She and her family have been taking in the city's attractions, and she was eager to talk about her kids, working on her directorial debut, and what it was like to play such a feminine character. There's lots more to come about teaming up with the "gracious" and "funny" Johnny Depp plus tons from the actor himself. Here's what Angelina had to say: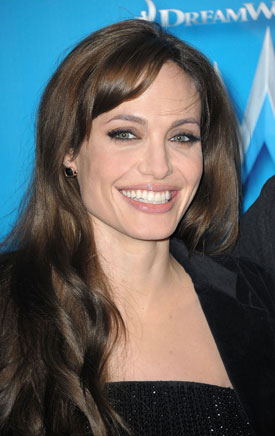 The wardrobe in this movie is beautiful; did you have input in the process?
Angelina Jolie: [Costume designer Colleen Atwood] was very specific about what she liked, but I did certainly chime in about things I thought were right for the character. We wanted to make sure that she had a kind of sexiness and elegance, but also that she was fun, playful, and sweet. Instead of a big high slit, [Colleen] put a bow in the bum. It was very different than anything I've ever worn. It took me a while to get used to the heels and the gloves and how to hold the handbag. I think everyone knows I'm not necessarily that female. So it was a bit of an exercise in having the fun of being a girl. Having come off literally being a guy in Salt, it was nice to rediscover female.
Your character sort of floats through this movie, away from the action; how was that for a change?
AJ: My note that I got probably every day was "slow down." I think as very modern women we feel the need to attack things, we're like New Yorkers. [The director] was trying to teach me a certain way of being bred, this elegance, like time moves around you, you don't meet it. The hardest thing for me was to kind of take a deep breath and glide a little more.
Did you have any specific inspiration for your character?
AJ: A combination of what we all think in our minds of female, all the different references. My mother had a real softness to her and was very gracious. Vivienne, my youngest daughter, is extremely female and very naturally a real girl. I kind of played Vivienne in the film. [Laughs.] I tried not to pin it down to one person so much.
To read lots more from Angelina about her directorial debut, Kung Fu Panda 2, and her family time, just read more.
What were the good and bad aspects of filming in Venice?
AJ: Not a lot of bad. The good was just everything. The kids had a good time. As a parent you feel responsible to teach your kids about culture — so you get this great feeling — done! Live in Venice for two months, have an Italian teacher, so that was great.
With such a busy career and family, how do you find time for yourself?
AJ: You just give that up at a certain point. You even try to take a bath and everybody comes in, so you give up and that's OK. As somebody who likes to be alone, I surprise myself that I'm very happy to be surrounded by everybody in my family. I feel that comfort.
How do you find yourself choosing projects at this point in your career?
AJ: It's getting harder to make decisions to work for the sake of working. Like everybody, I'm trying to find things that are extremely challenging or mean something to me deeply. Sometimes something like The Tourist comes up and it's just fun, but it's not as easy to find projects that I have to do. I have to be home and I have to do other things, but I don't have to work as much. That's why I'm unemployed at the moment.
Having just made your first movie as a director, what was that like and who did you draw inspiration from?
AJ: It's a combination of quite a lot of directors. I learned a lot from Clint [Eastwood], who's an extremely economic director. I learned a lot from Michael Winterbottom, who really gave a lot of trust in the actors and allowed them to live in the space instead of trying to manipulate and make it too set and too staged. Working with [Robert] De Niro taught me a lot of being an actors' director and what that is. I've learned a lot from pretty much everybody. Hopefully I've picked up something from everybody I've worked with.
I had such a wonderful experience being more with the crew. I think actors, because we're in the world of the characters and the movie, are more isolated, and it was really fun to wake up and be a family with the entire crew. I was much more aware of the process and every different layer of it. I was really excited to watch other actresses work and do things that I maybe would have liked to try, but to see them be even better than I ever could have imagined. I wonder how it's going to be when I go back to being an actor. It was really nice to be able to take the spotlight off myself and put it on some brilliant actors. I'm excited to show their work and their talent to the world because I'm very proud of what they gave and what they did. I felt lucky to be there for it.
King Fu Panda 2 is out next year; have you finished work on it?
AJ: I've done most of it, but I have a little bit more to do because it keeps changing. Jack Black goes in and improvises and I have to go back in and respond to it. I loved that first one and I think the themes are so beautiful. The next one gets into themes of adoption, which are obviously close to my heart, so I am very excited.