Interview With Garrett Hedlund on Country Strong, Working With Gwyneth Paltrow and Leighton Meester, and His Small-Town Roots
Garrett Hedlund on His Country Strong Roots, Tender Moments With Gwyneth, and Leighton's "Undeniable Cuteness"
Garrett Hedlund is clearly one to watch in 2011. The actor recently wrapped shooting On the Road alongside Kristen Stewart and debuts a pitch-perfect singing voice in Country Strong, which opened in the US yesterday, and will be released in the UK in March. He attended a special screening of the film last night in NYC, but I had a chance to speak with Garrett in Beverly Hills in December as he kicked off his press duties. I also chatted with Gwyneth Paltrow and caught up with Leighton Meester at the junket. It was held the morning after the Hollywood premiere of Tron: Legacy, in which Garrett also stars, and he admitted to being a little overwhelmed by his burgeoning fame, talked about growing up on a farm, and sang the praises of his leading ladies. Check out Buzz's review of the film, and here's what he had to say: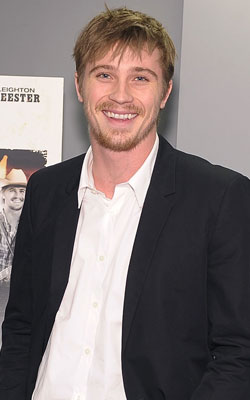 PopSugar: What was it like working with Gwyneth and Leighton?
Garrett Hedlund: It was wonderful. We're so blessed to have these two. They've got such incredible voices, so that's one thing, but also, they're just so good. Gwyneth was so wonderful. From our very first scene, it was a tender moment, so we kind of really had to jump straight into it. She's such a beautiful person and wonderful actress. Sitting there and being able to work with her, and listen and respond accordingly, and just have the moments we got to have, was the opportunity of a lifetime and just surreal. I've been a fan of hers for a long time, and also with Leighton. From the moment I read with her I was very excited . . . because I thought she brought such a genuine believability to this character and such a cuteness. An undeniable cuteness.
PS: You've had an incredible run of success that's happened very quickly. What sort of pressure do you feel — or do you put it out of your mind?
GH: Last night was the most like that, I think. You know, walking down on Hollywood Boulevard, and the barricades being up and everybody roaring, was very similar to the experience that Beau [his character in Country Strong] had coming out of that concert. He's caught by surprise at people with his picture, wanting his autograph. That was the most similar feeling I've had, so I'm glad I got to act it before I experienced it.
PS: You've got two such different projects out right now, Tron and now this. Can you talk about the contrast?
GH: It's been a weird line of transitions, because for two years I was prepping for On the Road, so by the time I did Tron, I had to start a mass amount of training with capoeira, and parkour, and physical training, and motorcycles, and all the wire rigs. So the physicality came into play. The physical transition came in. And then, having wrapped that, going straight into the guitar and sitting back and feeling the soul of all these tunes and moving out to Nashville with the pulled pork . . . I ended up going up to 200 pounds for Country Strong. And after I finished, they said, "All right. Now you have five weeks before Tron reshoots." And then I had to lose 30 pounds to get back into the suit.
To find out what Garrett had to say about his days driving a tractor on the family farm, his "chaotic" year, and performing for a Nashville crowd, just read more.
PS: How did you drop 30 pounds in five weeks?
GH: This trainer Gunnar Peterson. This is maybe the second or third time I've trained with him, and he's so good at what he does, he makes it easy. You're laughing the whole time, not crying. Then I had to do On the Road, but I had to keep the facial hair to go to Nashville to do additional scenes for Country Strong, so while I'm at the bootcamp for On the Road, I got the beard going . . . It was so chaotic. It's been such a multiple personality, sort of disorderly, year.
PS: Were you a country music guy before shooting Country Strong?
GH: I grew up in a very small Minnesota town, and we only had one radio station, and it was all country music. So that's why it was, first, surreal on Friday Night Lights to be working with Tim McGraw, because "Don't Take the Girl" was my favorite song. [I was] driving in the tractor and playing that, and next, Tim's playing my father. I got up on stage and sang "I Like It, I Love It," with him in Austin in, like, 2004, but I wasn't a country singer by any means. I was really familiar with all the great, old men. I mean, my grandpa used to play Johnny Cash to our turkeys, and they'd start bobbing their heads to the music.
PS: What was it like when it actually came to performing [for the movie]? Those were some big crowds.
GH: The lucky thing about performing for these audiences was that I really, truly loved the songs. If you were singing a silly song, you would have felt silly, and everyone would have felt silly for you. The message in all these songs was something I felt very strongly about. But the first performance we had, I was kind of worried about. I knew the scenes were beautiful, and I put a lot work into the preparation of the singing, the soul, finding the internal rhythm of that. But the first concert we had to do at the beginning, the smaller one, was for rowdier people. But when the crowd actually likes the songs you're singing, they just feel like they're at another concert, so they're just having fun. They get excited when a movie's being filmed in Nashville, and you're having fun with it and they're having fun. I didn't want to do any more scenes, I just wanted to keep performing!