Interview with Gywneth Paltrow on Country Strong, Her Friendship With Beyonce, Glee, and More!
Gwyneth Talks Being Inspired by Chris Martin and Beyoncé, Juggling Work and Motherhood, and Finding Her Country Strong Voice
Gwyneth Paltrow has been busy promoting Country Strong before its US release this Friday (it's released in the UK in March), and we had a chance to chat with her during her December press junket. She's already made a hilarious appearance on Jimmy Fallon and stopped by GMA this week, and she's also gearing up to host the Jan. 15 SNL. The actress arrived for our Sunday morning interview in Beverly Hills wearing sequined Diane von Furstenberg shorts and a casual ponytail, and opened up on how her good friends Beyoncé Knowles and Faith Hill inspired her role, playing a character so at odds with her public persona, and working alongside "hunks" Garrett Hedlund and Tim McGrawbrand>. Gwyneth said: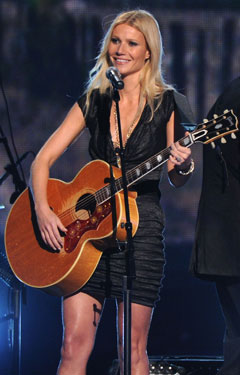 What was Chris Martin's reaction to the film? Did he give you any tips?
GP: He hasn't seen it yet, but yeah, he did. He was really great, but to be totally honest, I kind of picked the brains of my girl singer friends more. Because I think it's a very different thing to be like a male in a band as opposed to Beyoncé or Faith Hill, just there by yourself. And they were amazing. Beyoncé was in London. She helped me so much before I went. When I got to Nashville, Faith helped me so much. And Faith had also said to me; 'Thirty days before you do it, just start singing it. Sing it every day, so you know the vocal part is just in your muscle memory and you don't worry about the vocals.' And thank god! If she hadn't told me all of that stuff. 'Wear one of your inner ears in and one out so you can hear the room!' It got me through it.
Do you have any tips for moms on how you ease the guilt of working?
GP: No, do you? [laughs] It's been really hard for them this Fall, because I'm always home or they're always with me, and because I keep making these quick trips. I don't want to pull them out of school and take them to Hong Kong for one day of filming. It's not feasible — it's mean! But I also think it's important that I say how much I love what I do and how lucky I am to have my job, so that they also feel excited for me. So they ask me questions about it, and when I came for Glee, they came with me. But it's hard — there's no answer.
There's a public perception of you as this macrobiotic, Buddhist, goddess of Manhattan, and you're playing this vodka-swilling, uncontrollable country singer.
GP: [laughs] Much closer to the real me...
Was there a concern about the audience's ability to wrap their heads around that?
GP: I think the image that I had for a long time was extremely exaggerated. But Clint Culpepper, the head of Screen Gems, when the script came to him I was already attached and he was like; 'You all are crazy, she is so wrong for this part...and now he's like; 'I can't believe I thought you were wrong for this part!' When you think of country superstar, drugs, drink addict, you maybe don't think of me immediately. But it's in there. She's in there.
To read what Gwyneth says about her leading men, Tim and Garrett, her anxiety about singing on screen, and her possibly performing a few live shows, just read more.
Were you nervous about singing [in Country Strong] or were you more excited to get a chance to show people something new?
GP: I was excited about the music, 'cause I've always sang or whatever and had a fine voice, but I was nervous about playing somebody who was such a huge star. My singing teacher in London really worked me really hard. She was like; 'There's a big voice in there and we're going to get it out.' I obsessively watched Beyoncé perform, because I was like, you know, she's it in terms of a performer, the talent and the confidence. I thought, if I can just get a little bit of that incredible self-belief and abandon that she has on stage...that's what I was sort of focusing on for that final performance of the movie.
What was the experience like, getting a standing ovation [at the CMAs]?
GP: Oh my god. It was the most surreal, amazing, bizarre, exhilarating experience. I feel like I'll look back on that always and be like, what a moment in my life, I can't believe I was there and I did that. And I was very overwhelmed by the standing ovation and it really, like, brought a tear to my eye. I was just amazed that people were so supportive and it gave me chills.
Can you talk about your leading men, Garrett and Tim [McGraw]?
GP: Yes. Both total hunks. Love both of them. Garrett is so sweet and he's so big and tall and strong, but he's got such an incredible sensitivity and vulnerability, and Tim is just great. You know, he's got so much in there, and when you look in his eyes, there's so much. He's so intense and it was fun to work with somebody, too, who is discovering how good they are at a different thing. He has real chops and I love both of them.
Could you ever see yourself playing a few dates singing?
GP: I don't know--you know, they asked me to sing at the Opry, which I would love to do. I'm honoured. I'm like; 'Did someone bribe the mayor?'