Interview With John Legend at Hilfiger Sessions
The Legend That Is John Talks Busta, Estelle And New Songs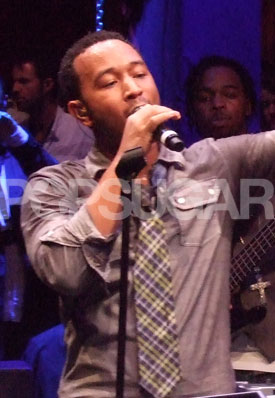 Here at Sugar UK HQ we love to get along to events and find out what's happening straight from the mouths of our favourite stars.
John Legend was in town on Monday to perform tracks from his new album and collaborate with Zarif at the first ever London Hilfiger Session for Tommy TV.
My girl FabUK brought you the lowdown on John's thoughts on fashion yesterday when she reported back on her fun Fab Field Day at the Hilfiger Sessions.
Today we're bringing you even more from the man himself, including his thoughts on performing with Busta Rhymes, Estelle's many nominations, and the sound of his new album.
On performing with Busta Rhymes at Orange RockCorps this Friday: "I love Busta. Busta is one of my favourite performers. He's a great live artist and he's had a lot of great hits so I'm excited to see him. It should be fun."
On Estelle's success: "I'm very proud of her and she's very deserved of all these nominations. She made one of the best albums of the year and I'm proud to be part of it."
To see more pics and find out what John says about his new album read more.
On his performance being broadcast online on Tommy TV: "What global?! [laughs] No it should be good. I'm glad my fans can watch it anywhere."
On his new album: "Some of it is a bit more up tempo. In the middle some of it's reggae, some of it's ballads. It's a mixture of things."
On collaborations: "Every song I have ever made has been a collaboration just about, except maybe "Ordinary People". But this album has more featured vocalists on it."
On whether he wanted to collaborate with anyone else: "No this is exactly what I wanted."