Interview with Mary-Kate Olsen About Her Role In The Wackness
Mary-Kate Talks Movies, Moving On and Making Out
Mary-Kate Olsen is currently promoting The Wackness, a movie she fleetingly but memorably appears in alongside Sir Ben Kingsley, Olivia Thirlby and Josh Peck. We caught up with the diminutive starlet and asked her about her experiences of filming the movie, her decision to step away from her child-star roots and making out with Sir Ben Kingsley. Here's what she told us: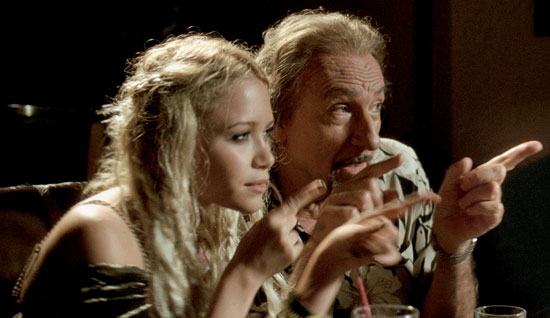 How did you get involved in The Wackness?
I read the script, enjoyed it, auditioned and I got the part. I go through the same process pretty much every time I want to do a role. I then met with Jonathan Levine and we clicked. He is such a great guy and a very talented director and I was excited about working with him.
Had you seen any of his previous films?
I had seen All the Boys Love Mandy Lane; I thought it was done really well and when I then found out that Sir Ben Kingsley was attached I was sure that appearing in The Wackness was a good decision. Jonathan has such an easy style, he has a great way of talking and supporting you at the same time and he loves watching people do their work and that is a really refreshing feeling.
Sir Ben's three times your age and you have a pretty passionate kiss in the film. What was that experience like?
It was sort of surreal. He is very professional and he made me feel really comfortable and it was pretty cool. He is one of the most talented people that I've ever had the opportunity to work with so I kissed him quite happily.
To read what Mary-Kate had to say about her character in the movie, her memories of 1994 and breaking away from her child-star roots, just read more
Your character Union is pretty wild and out there. Did that part of her character attract you to the role?
I really liked Union – she is young and free-spirited. She is only in two or three scenes and I thought it was the perfect part for me to play. She was fun to play a bit exotic doing things like walking into a bar a bit tipsy and acting out was fun.
You were eight years old in 1994, when the film is set. Do you remember it at all?
A bit of 1994... it was a different opinion and point of view of the period that I had, [compared to] the one in the film. That was when I was in elementary school!
Was it a considered decision of yours to take a role in a more adult film, in comparison to the ones you made with your twin Ashley?
I was never challenged when it came to acting when I was younger and I sort of just did whatever was given to me without asking questions. I didn't really understand why I enjoyed it or why I did it and I guess I wasn't quite sure about it anymore. I made the decision to take acting seriously after high school. When I was in my Freshman year at college (at NYU) I took some acting classes and found that I fell in love with acting again. Then I got a new agent and manager, who have been sending me different scripts to read. I'm lucky that I'm about to do films like The Wackness and I had a great experience making this film.
The Wackness comes out in the UK today (August 29), and make sure you enter our competition to win a novelisation of the movie and a limited edition t-shirt!