Interview With Matt Lucas Singing Elton John Songs and Talking Bad Shakespeare Experiences for Gnomeo & Juliet
Matt Lucas Sings Elton John Songs and Talks Bad Shakespeare Experiences For Gnomeo & Juliet
Matt Lucas stars alongside Emily Blunt and James McAvoy in Gnomeo & Juliet, and he talked about his part in the movie at the press conference I attended last week. While Emily discussed her history with Shakespeare, Matt recounted one of his worst stage experiences, and also did his amazing Elton John impression while trying to get us all to sing. Here's what he had to say: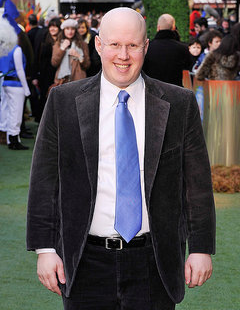 How did you cope with the animated movie-making process?
ML: It was very nice because I'm usually up at 3.30am or 4am having prosthetics put on, so for me I'd get up at 8.30am, have some breakfast, they'd send a car for me, I'd sit down – some people did theirs standing up – and had a cup of tea, said about six lines and went home. It was very nice. You do that about twice a year for about three or four years, then you walk on a green carpet [at the premiere] and everyone says: "Well done!" You say: "Thank you very much!" And then you do an interview and you say: "Acting's terribly hard you know..." But it isn't. It was very pleasurable and easy and it was nice to work with friends... people I already knew, people I didn't know but I now count as friends. There is a lot of hard work that goes into the movie but I can't claim to have been any part of that. But we did see the process develop.
What was your initial reaction when you were told you'd be voicing a gnome?
ML: "How much?" ... No, honestly, I was just happy to get the work. I was chuffed to bits. I know David Furnish and Elton John a bit and I remember David talking very excitedly about it. This was going back four or five years even, when we were doing Little Britain at the Hammersmith Apollo. I'd lost my voice that night, but still did the show. I remember thinking: "God, they're going to think that's my voice and I'm not going to get in the film!" But it's just been a pleasure to be a part of.
Which song of Elton John's is your favourite?
Matt Lucas: My favourite song of Elton's is... it's a tricky one for me. I'm a proper fan and I've probably seen him in concert about a dozen times before I even met him. "Mona Lisas and Mad Hatters", which isn't in this film... but whenever I see him, I always tell him that "Passengers" is my favourite song because it's one of his least auspicious ones. I told Bernie Taupin that his best lyrics were for "Song For Guy" just because it doesn't have any words in it. But there you go... I'm a wind up. But a good Elton song for karaoke is "I Guess That's Why They Call It The Blues..." [sings] laughing like children, living like lovers, rolling like thunder under the covers... Everyone join in!
To read Matt's bad Shakespeare experience and find out his amusing answer to his favourite kids' film, just read more.
Have you had any previous experiences of performing Shakespeare?
ML: I was in a production of Troilus and Cressida at The Old Vic which Dominic Dromgoole directed and he wrote a chapter about it in his book, "Will and Me", and he classes it as a career low. He talks about the overt alcoholism of the cast but I was stone cold sober for the entire run so I don't know what my excuse was! You can read the reviews of me if you have a look at the archives... have a look in particular at the What's On review, it's a wonder I ever get back on stage again! It was not the most auspicious moment of my career. I think this [film] is the closest I ought to get to Shakespeare to be honest. I played Thersites and I remember we were also doing some places out of town before starting our run at The Old Vic in London and we were at the Yvonne Arnaud Theatre in Guildford and I walked on stage and I've got an opening speech that begins: "Agamemnon, how if he had boils?" And I went on and said: "Agamemnon..." And a woman in the front row just went 'tut'. I thought: "I've only done four syllables, give us a chance!" I got one word out and the audience were already tutting. It was worse than any heckle I ever had doing comedy. So, I'll stick to gnomes.
What is your favourite kids film and why?
ML: Saw IV.... I used to like The Railway Children with Jenny Agutter... No, I didn't watch it with her! She wasn't in my sitting room! But I liked it.
You can check out Gnomeo & Juliet when it's released nationwide on Friday!