Interview With Matthew McConaughey About The Lincoln Lawyer, Ryan Phillippe, and More!
Matthew Talks Ditching His Dream of Becoming an Attorney, Being a Dad, and Ryan Phillippe For The Lincoln Lawyer
Matthew McConaughey was looking good as the center of attention at the big premiere of The Lincoln Lawyer last Thursday, and he started the day at the Four Seasons in Beverly Hills, where he chatted with reporters about the legal thriller. The actor plays wheeling-and-dealing attorney Micky Haller in the new movie, which costars Ryan Phillippe and Marisa Tomei and is out in theaters March 18. We heard from Matthew on the reason he decided to leave his own dreams of practicing law behind, why he didn't want to meet Ryan before they filmed their first scene together, and how his car is one of his favorite places to be. Here's what he had to say: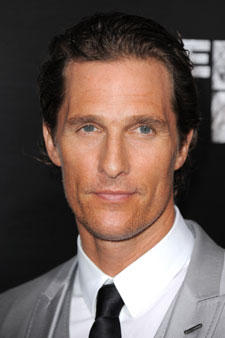 On why he didn't want to meet Ryan before shooting: You know, with Marisa Tomei who plays my ex-wife, yeah. We have a history, so when you meet us on film, we've met. William H. Macy, we have a history. Ryan — he's a client, I'm his attorney. We first meet each other in this story. I didn't want to show him my hand. I didn't want to share anything about what I was thinking. And I didn't want to know anything from him. I didn't even really want to kind of get to know him in any way. I felt more comfortable just [saying] "I'll meet you on screen the day we're doing our work . . . I'll meet you through the character." It wasn't until it was over that we looked at each other and went, "Nice work, man. Hey, how ya doing?"
On whether he has a driver like his character: I prefer to drive in my real life. Behind the wheel is my favorite spot. My own car is a mobile office. I love sitting in a car seat, controlling my music, controlling the temperature, backing the seat up, putting my leg out, moving the rearview mirror, the sideview mirror. When I lived in my trailer and was traveling across the United States, [and someone would say] "OK, it's Thursday. I can come in Saturday morning to meet you." And I'd look at the map and say, "Well, I'm heading East. I'll be in Tucson by Saturday morning. Why don't you fly into Tucson airport, I'll pick ya up, and I'm gonna keep driving East. We'll spend the day together and then you get a flight back out of El Paso. And I'll drop you off there." Some of the best business I ever did.
On how having kids changed his car: It's all mixed in, man. They don't have the carseat down, do they? Have you ever tried to get one of those in quickly? I'm not very good at it. And they're not easy to clean at all. Always crap stuck in there. Now stuff is mixed in, but I know anything the kids or anything I need, it's somewhere in my car. Sometimes, I'm out and I go, "Oh, I forgot that." And I go, "No, it's in here somewhere." Sometimes it means getting out and digging in the back, but it's in there somewhere.
For the rest of the interview with Matthew, just read more.
On why he decided not to become a lawyer: That was my plan, when I was going to college, was to do that. Well, I looked up one morning and noticed that to do what I wanted to do was going to be two more years of this school and four more years — "I'll be 28 when I get out to start to practice a craft and have a career?" I was like, "No way, man. What about my 20s? I got some things I'd like to say now and try and do." So I actually changed my course and went to film production and studied on that side of the camera, and you all know the story between junior and senior year. I met Richard Linklater and got my first role in acting, went back to school, graduated, got my degree, then came out here and started working.
On researching the part: What I saw was, these guys are movers and shakers. The phone's always ringing, someone's at the door, they're wheeling and dealing and papers stacking up, and they're saying, "Yeah, I'll do this for you if you do this for me." And then when I went to some cases at the federal courts, you see how these guys are performers. Some of them good, some of them not so good. You see how it matters what judge is in there. The judge I was in there with didn't have patience for these stories that these defense attorneys would weave into. He'd interrupt them and go, what is your point? What is your point? Other judges would let them go on for hours and days. These kinds of attorneys down in downtown LA, they're not wearing Dolce suits. They're down there with the clients they're representing and they're slick, but they're street-smart slick, and they are wheeling and dealing and constantly on the move.
On his character's approach to the law: This guy still has a real draw to humanity, the people that he represents, these sort of bottomfeeders in society that can't really defend themselves. But he's not naïve by any means. He still may have some ideology about defending these people that can't defend themselves, but he's pretty much a pragmatist and understands how the system works. And understands you gotta know how the system works to make it work for you. So he bends his own rules, he plays both sides of the law. It's not really a moral or immoral question to him. I'd say he's more amoral and he makes it work for him.
On what's next for him: I've got Bernie coming out. I did it with Richard Linklater. And I've got Killer Joe . . . which is from a Broadway play.
On whether he'd sign on for a sequel to The Lincoln Lawyer: Two things would make that so. It takes three things, but two things would make it so. One, it's got to be a good movie. I think we made a good movie. Two, it's got to perform at the box office. There's a number, and I don't know the number, but there's a dollar number that it has to make for the financiers to say, "Let's pony up for the next one." That's just a fact. Third is, yeah, if it's a good script, I'd love to.