Interview with Meryl Streep, Christine Baranski and Amanda Seyfried About Mamma Mia!
We Meet the Female Stars of Mamma Mia!
This week I had the amazing opportunity to meet the stars of Mamma Mia! just before they walked the blue carpet at the big world premiere. Here's an excerpt of the Q+A with the women of the film: Meryl Streep, Christine Baranski and Amanda Seyfried. Be sure to keep coming back to PopSugar UK to see what the actresses had to say about the singing and dancing they had to take on too. In the lead up to the movie's release on 10th July, I'll also bring you the lowdown on what Colin Firth, Pierce Brosnan, Dominic Cooper and Stellan Skarsgård had to say about their experiences on set.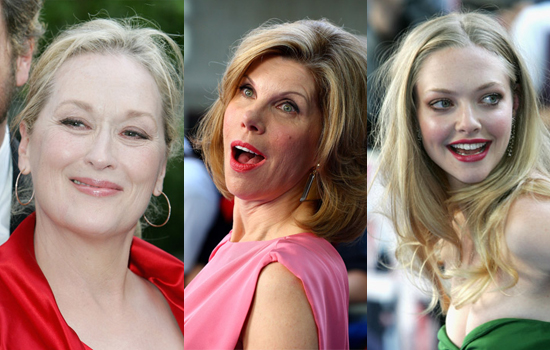 To set the scene, the three actresses all dressed in black: Meryl accessorised with a long necklace, natural makeup and her hair up; Christine donned a double string of pearls, perfect hair and red lipstick; and Amanda's huge eyes peeped out from her long straight hair. They laughed a lot and seemed to genuinely like each other.
Meryl and Christine, Julie Walters isn't here, but the three of you have a fantastic rapport on screen. Did you have to work at that?
MS — I had to work so hard [laughs]. You have no idea. [Julie]'s so divine and she's so warm and she's very wicked about everyone. So we had lots of fun. The outtakes – I hope they never appear.
CB — Friday night was the one night we could go out and have a little English martini together.
MS — [singing] Friday night and the lights are low...
CB — It was all research. We just kept saying:
MS and CB in stereo — "It's research, darling!"
CB — It was so immediate and so spontaneous, the three of us liking each other and wanting it to look like fun and I remember we said to each other: "You know this is going to really work if it really looks like we're having fun every single take". And so I'm happy that we're getting that feedback that it looks that way, because that's what it was.
To see what else they said, including gossip on Colin, Pierce and Stellan, read more
Amanda, feeding off the more senior members of the cast must have been fun.
AS — You know what, sometimes I felt like I was trying to come on set and be serious because I'd have all these completely seasoned talented actors and I'm coming on so intimidated. But really I felt like I was the serious adult and everyone was without concern having the time of their lives. Eventually I finally came to a relaxed place and I was able to join in on the fun, but at the beginning I was like [puts on eager voice] "I want to have fun too", but really I was just so nervous!
Meryl, you sent a well done letter to the cast when you saw the Broadway show.
MS — I took my 10-year-old and her birthday party and it was right after it had opened and it was right after September 11th and everybody was feeling really low and I thought what am I going to do with all these kids? I saw an ad in the New York Times and it said "New British musical" and something like "buoyant fun" and I thought "Boy I'm there". I took the kids and we all just were dancing in the aisles and down the street, bought the cast album and sang the songs for two years and that's why I wrote the note to the cast to say basically thank you for the music and thank you for the injection of joy which was so needful at that moment.
Are you nervous about your children's reaction?
MS — Oh I'm not nervous any more, I was, but then I showed them all the stills and they've already had their mortification moment about me in the white spandex [laughs]. We have to get over this! I can't wait for them to see it, it's like we've done it for our daughters, right Christine?
CB — Yeah, really.
MS — And my son will be, I don't know, appalled. But I think he'll actually like it, because he's a musician and he'll get a kick out of it, he appreciates the musicality.
The three of you come from different film backgrounds, so what was it like working your characters together?
AS — I just feel that the more you laugh with someone off camera, the easier it is just to make something work. I kind of just let things happen. When you're in the zone with someone ... you're sharing something... We just all laughed more than I have ever experienced with anybody, with a whole group of people.
MS — It's true. People who are in plays get to have this experience. In most movies people fly in and do their bit then they fly out... This one, because we were incarcerated in that barn and trying to learn "Voulez-Vous" for three weeks before shooting started, all we thought about was "Voulez-Vous". I didn't have time to worry about anything else. And Colin Firth was so worried about it. Stellan Skarsgård was beside himself. Pierce was drenched in sweat every day. But we all bonded over that, I mean didn't we?
AS — We were all humiliated!
MS — We were a company and we lived together. I couldn't get rid of these people!
CB — There was a summer camp quality to this, there definitely was. Let's put on a show for camp and then we get to go on the islands.
MS — Definitely, as they say, they saved the best part 'til the end. We went to Greece and they put us in the most beautiful places in the Northern Aegean.
It was a pleasure to listen to these actresses talking about their experiences shooting this film, and their enjoyment really came across. Coming up in our next installments — the women talk about the challenges of singing and dancing and the men chat about costumes, the fear factor and which singers they'd like to make a musical movie about. I'll also give you my thoughts on the film itself, so stay tuned!