Interview With Meryl Streep, Christine Baranski, Amanda Seyfried, Pierce Brosnan, Colin Firth About Mamma Mia!
Mamma Mia! Stars Tell Us About The Singing And Dancing
When I met the stars of Mamma Mia! last week, the women told us about bonding on set and the men chatted about powerful women, tight costumes and Greece. With both groups of stars, one aspect of making the film kept coming up — the challenge of singing and dancing to those tricky ABBA songs! Here are Colin, Pierce, Stellan and Dominic's thoughts on the subject, as well as Meryl, Christine and Amanda's words.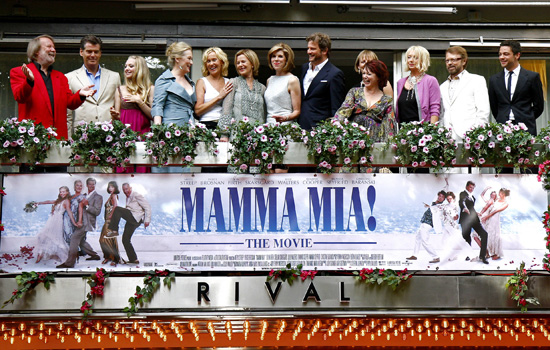 Meryl, Amanda and Christine, was it hard singing and dancing at the same time?
MS — Here's the hardest number: "Voulez-Vous". It goes by like this [clicks fingers] in the movie, but it was so hard to get those dance steps.
AS — I mean, how long did we work on that?
MS — We worked on it three weeks before we began shooting. It was everybody's bête noire, all the non-dancing actors, which is to say all the actors, except for Christine.
CB — Oh stop that saying that!
MS — It's true! You got it. We were all [does a shimmying motion while singing in an out-of-breath voice] "voulez-vous…". It goes so fast and there's 150 people on the set, and it's very cramped. It's the only, well except from the ending, number when everybody's dancing at once, the whole cast and every dancer in London I think. And it was really scary, fast and then they played those disco lights, eight hours a day, and the migraine sets in. But couldn't wait to get there in the morning, right? And do it again, because it was so fun.
To see what the rest of the cast had to say about their experiences just read more
THE MEN:
Colin, was the singing and dancing side of this hard?
CF — Yes. People asked how we came together, got to know each other and became such a family. I remember turning up on the first day of recording terrified of meeting Benny and Björn, we were told we had three days to record a three minute song and my mind boggled. I could imagine myself in floods of tears while they shook their head and bossed me to do it again. Then I was introduced to Pierce, and I was staring into a vortex of fear and it was the same with Stellan and I suddenly realised that I wasn't alone.
Dominic, after Mamma Mia! are musicals on your agenda now?
DC — It's a really liberating, exciting although very exposing thing to sing. When you actually get something you couldn't do before, when you finally feel you're hitting the notes correctly it's very very exciting. Whether it's even remotely good enough to do a musical, probably not. It was terrifying seeing two bearded men behind a glass partition in the studio and realising it was them who wrote the music, that was a real test and very frightening but a great feeling to maybe have achieved it.
Stellan, you said you only normally dance when drunk.
SS — Usually when I'm dancing my whole body tells me, no this is not right! It was terrifying. But I realised pretty quickly that this was like a boot camp. For weeks and weeks we would just rehearse one song, "Voulez-Vous". I had an absolutely bizarre experience with that and I realised I'm never going to be able to do it.
Pierce, was there some discipline on set, or was it pretty riotous throughout?
PB — It was great fun. I had the time of my life from day one all the way to end. Apart from the terror of singing, but once you'd got that under your belt, and you came to the theatricality of it and you made peace with your voice, it was just wonderful to be in a company, you know a young company and to see Meryl there and to see this wonderful cast. It was great going to work every day. There was work to be done. Phyllida really created this wonderful platform for us all to make fools of ourselves and support each other.
THE WOMEN:
Christine, was it a daunting prospect to be leaping about for the movie cameras?
CB — Yes, in a word yes. I think it's always challenging. Particularly when you're mainly an actor and you've been given any kind of musical work to do, you feel humbled by it and properly terrified. Then it's like, "Oh my gosh this is a great challenge, how wonderful". And then when you actually do it you think "Why haven't I been doing this my whole life? It's so wonderful" [laughs].
Amanda, you're the youngest member of the cast. Were you familiar with ABBA's songs? Were you surprised to be asked to do this?
AS — Yes, absolutely, I felt a little bit of pressure because I wasn't so familiar with their huge success, I just recognised the music so much. It was just scary to kind of read the songs through in my own style. I didn't know what to expect. I mean I got chosen also partly because they did appreciate what I had to give. It was kind of amazing.
Meryl, how much input did Benny and Björn have in how you performed the songs?
MS — They were there all the time, whenever we were recording. First we recorded a pre-record to work to on set, and then we recorded live with body mics when we were shooting. They were very generous, what Amanda was saying, about letting us own the songs. As long as we were exact on the words [laughs] and the timing. And to not lose the beat, I mean that's really important. I didn't want to disappoint them. I didn't want to let down all the Donnas — there's how many, 500 Donnas? — that are just going to be watching this. We're in a club now and I didn't want to let them down. There's so many great songs. It wasn't hard work, it's a joy to sing this music.
Meryl, what was it like to begin a song in Pinewood and finish it in Greece?
MS — You know I think I've sung all of these songs about 70,000 times from starting in my closet, which was the only place my family would allow me to practice, all the way to Pinewood and in Holland Park where we were living, those poor neighbours. I never got sick of singing these songs, never never never. In my drama school they used to use ABBA to rev everybody up for dance class because you can't not be excited when it starts. There wasn't a big problem, reinserting yourself into the moment from Pinewood to Greece. Greece was … nicer! [laughs]
ABBA's Benny Andersson and Björn Ulvaeus and the film's director and producer — Phyllida Lloyd and Judy Craymer — also shed some light on the terror and triumph involved in the actors' experiences on set. I'll be bringing you their words along with my review of the film later this week, so stay tuned!