Interview with Pierce Brosnan, Colin Firth, Stellan Skarsgard and Dominic Cooper About Mamma Mia!
We Meet the Male Stars of Mamma Mia!
Before they walked the blue carpet at the film's world premiere on Monday, the stars of Mamma Mia! told us all about their experiences of making the musical movie. I've already brought you the lowdown from the women, so now it's time to hear what the men had to say. Be sure to keep checking PopSugar UK next week, as I'll be bringing you more from all the stars, plus my review of the film before its release on 10th July.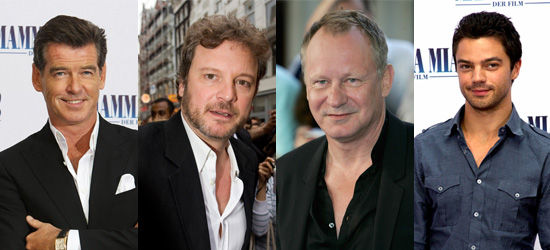 Pierce Brosnan, Colin Firth, Stellan Skarsgård and Dominic Cooper were all nicely tanned and rocking the smart casual look to perfection in suit jackets with dusky blue shirts (not matching, I hasten to add). Pierce and Dominic had rather attractive stubble, while Colin was sporting a full-on beard. Pierce received the most attention from the journalists in the room, but each of the other actors also had lots to add.
If you had to put together a film based on the musical hits of a favourite singer who would it be?
PB — Springsteen. His songs have such a poetry and an imagery.
CF — My son suggested Radiohead. [laughs] Yes, dancing in the aisles!
DC — I think a Michael Jackson musical would be good, wouldn't it?
SS — I don't know. I'm speechless. [laughs]
To find out what the men thought of their tight sequin-covered costumes read more
Dominic, the last movie you did [The Escapist] was very different. What was it that appealed to you about Mamma Mia?
DC — After spending 26 days in a sewer in Dublin I thought it was time to get off to Greece. Apart from that, no I was very very fearful of this. I got the first phone call from an agent asking if I could sing; I immediately said no and I hid in a cupboard, hoping they wouldn't ask again. They continued to ask and I found out what it was. I knew of Phyllida's work and I knew the music, I grew up with the music. I became quite excited about it and forgot about the fear and went to an audition and sang and thought it was very embarrassing and then got the part.
What reaction did you get from the locals while filming in Greece?
CF — We were either welcomed or completely ignored. There was no hostility really. Frankly I think the ABBA factor was the thing that got people excited, and the presence of Pierce and Meryl. I think even if you live on Skopelos and have never seen Mamma Mia! you'll still probably know all the songs. So I think people were really extremely happy.
What was it like working with the director Phyllida Lloyd?
SS — Because you're working with a female producer, a female director, a female writer, everybody in power was a woman, except Bjorn and Benny [laughs]. But the fantastic thing is that nobody has to show that he's got a bigger d*ck. [Except us.] We stuffed our spandex. [laughs]
Speaking of spandex ...
When did the scene with those tight sequin costumes in the final sequence happen?
CF — It was after the filming finished, after Greece. There was some debate about whether we were ever going to do it. It was on, it was off.
PB — We were all game for it though, weren't we?
CF — That's why we do this job. Whenever actors tell you about what motivates them, that they want to change the world or whatever, we want to put a frock on and mince about. So that's that coming through. I tried to steal mine. I was caught leaving Pinewood with it. [laughs]
Pierce, what was it like when Meryl sang "Winner Takes It All" to you?
PB — It was magic. It's forever in my heart, indelibly imprinted in my mind. It was a tough day, the weather was a bit flukey. The concentration it takes to perform and to go out there and to do it in one. Again Phyllida was there, quietly directing, it was a simple shot, a horseshoe dolly track, and that was our stage. This beautiful, poetical, lyrical background; the raging sea. And this man that I play, saying "We've got to talk, don't let her do this, and listen to me and listen to me" and then she just nails him with this song, this aria. It was very very moving. And all I had to do was just stand there and listen and enjoy it. I was just a member of the audience, this guy in a suit, standing there, and watching this beautiful performance, this gorgeous song. It was really magic.
Pierce, after Sweeney Todd Johnny Depp said he wouldn't be too keen to do another musical movie. I wonder if you've got a taste for it now?
PB — Yeah, I'd have a crack at it. Sure, I really enjoyed it. If I could do it with the same cast, the same people, yes. Sure, why not? In for a penny, in for a pound.
The was a real excitement in the room while we listened to these actors tell us about their experiences, and I really got a sense of the fun they had filming at Pinewood and in Greece. Coming up in our next installments — the women and men tell us about the challenges of singing and dancing, and I'll give you my thoughts on the film itself, so stay tuned!