Interviews With New Moon Kristen Stewart About Her Relationship With Robert Pattinson in Response to Girlfriend Boyfriend Goss
PopSugarUK Meets The New Moon Cast Part Two: Kristen and Robert Respond to Relationship Rumours!
Kristen Stewart changed out of her sheer dress and into jeans and a t-shirt for dinner at a Spanish fish restaurant with Robert Pattinson and Taylor Lautner last night, after they attended the fan event in Madrid. I caught up with the trio when they were in London earlier this week, and the question on everyone's lips was what's happening between Rob and Kristen, especially after those hand holding pictures! While the pair were happy to talk about kissing scenes, their response to this particularly tricky question was somewhat different. When asked how their personal relationship affects their working relationship, Robert laughed and said "it becomes very speculative", but Kristen gave a fuller and more intriguing answer: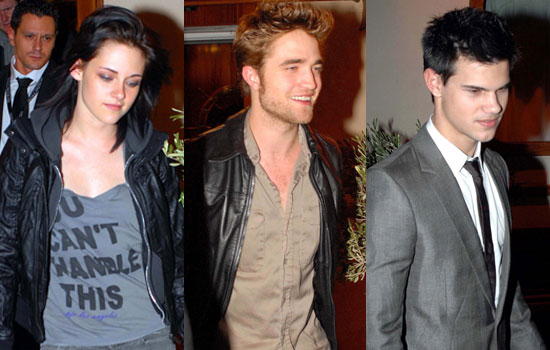 "Any good relationship that I've ever had with an actor has always been so emotional and personal. If you don't have that then you're just lying, and I have that with Taylor and everybody that I've ever worked with that I've ever gotten something from. You need that. It doesn't mess with you because you're better friends with someone on set and you need to be playing different characters. You're on a higher level of getting each other, and so you're more comfortable and thus more able to give a more honest performance."
Stay tuned for more gossip from all three stars, but for now, to find out what Kristen's family think of her fame, and the trio's views on the fans, read more.


How has your family responded to your fame?
Kristen: "My family's embarrassingly proud of me. My brothers get overtly protective, so I've made rules now, like you can't go outside and scream at people if they have cameras. But they're embarrassingly proud."
How do you prepare yourself to meet your adoring screaming fans?
Taylor: "I don't think there is any preparation."
Kristen: "No there's really not. When you have that amount of human energy thrust at you, it doesn't matter how much you think about how cool it is, or the fact that it happens all the time, I think it's an undeniable life force. And that's why I get so nervous. Literally I can feel so much... energy."
Taylor: "We live off the fans' adrenaline."
Kristen: "Sometimes [laughs] We need it to live, all the time. It's like, if it stops we're going to die!"
Robert: "You wear a lot of layers as well. I always find myself wearing a lot of layers so they can't see you hyperventilating. That's a good preparation technique!"

The majority of you were convinced Rob and Kristen are an item after seeing them holding hands, so how does this latest interview affect your opinion? Check out Molly's cool interview with Kristen and stay tuned for more gossip from all three stars!