Interviews With Remember Me Cast Robert Pattinson and Emilie De Ravin About Twilight Fans and Lost Ending 2010-03-30 00:00:00
PopSugarUK Meets Remember Me Cast Part Two: Robert Pattinson on Twilight and Emilie De Ravin on Lost
When Robert Pattinson and Emilie De Ravin premiered Remember Me in London last month they gave us lots of memorable moments on the red carpet and at the after party. They also told me all about why they chose to do this movie, and they chatted about the roles in Twilight and Lost that brought them to megastardom. Check out what Rob had to say about fighting, father figures and friendship in Part One, and read on to find out what Rob thinks of his Twilight fans and how Emilie feels about the end of Lost. Stay tuned for Part Three!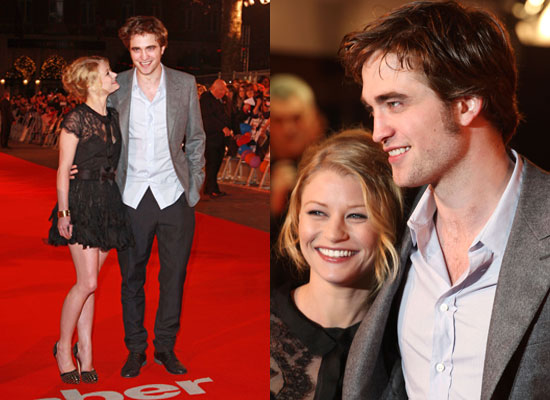 Robert on what convinced him to sign up to Remember Me: "I think it was just I'd read tons and tons of scripts over the Summer after Twilight, I mean hundreds, and every one seemed exactly the same. This one, initially just how the dialogue was written, just seemed much more naturalistic than most things. Also Tyler as a character. I mean it seems like most movies that have a young, male protagonist as the lead, they have to be like either a virgin to begin with, and have to learn everything during the movie, or they go through the trials of the movie and end up a totally different person and they're completely fine afterwards. But Tyler seems like he starts off with a lot of baggage and a very full-on developed character, and ends up just being developed in a slightly different way, rather than just becoming, 'Oh, I'm fine now. After going through this movie, I'm fine'. And you just never see that in films very much, especially for young people. I think that's what initially appealed to me."
To find out what Rob and Emilie had to say about Twilight and Lost, read more.


Robert on whether there are pressures to film box office hits: "I never like anything, so it's quite easy to decide what to do, you know, even movies I'm not in [laughs]. I've never felt any pressure to do anything particularly, even while we were shooting, I never thought about the box office or anything, it's only when it came to promoting it that people ask you about that stuff. Obviously, it's not like a Twilight movie, it's an original screenplay and it doesn't fit into any genre either. It's not really that much of a feel-good movie; they don't make movies like it anymore. I guess that's how I really choose stuff, that's the only real criteria I have, if there seems to be a

gap

in the market for something, then I try to do that. I'm trying to do that with all the other things I'm doing afterward too."
Emilie on Lost ending: "It has been a big part of my life and it's been a great ride. It's kind of bittersweet that it's ending, I'm really happy that they made a decision consciously to announce an end like three years ago and evolve the story the way they wanted to — you know give it a beginning a middle and an end — and also that it's ending on a high note, it's not sort of trickling away when no one cares, so I think that's really positive. But obviously you miss things about projects and people you work with."
Robert on how important the fan reaction is to his new films: "When doing films like this which are quite difficult to just generically advertise, having something like Twilight and Lost gives it publicity immediately. I think if people go and see it, once you've got them into the cinema, it's almost inevitable that they'll get drawn in to it, hopefully. Yeah, so I don't know, obviously you hope people like things, but if you start doing stuff to please a certain audience, then you're going the wrong direction. I mean, you don't even know the people you're trying to please, especially when you're trying to please huge swathes of people, but hopefully they like it."
Emilie on whether she thinks about her existing fan base in choosing roles: "I think it's interesting that it was never really conscious for me in that way, but yeah, why not use a pre-existing fan base. But as you're saying, you're not going to please every fan. Every fan of Twilight or Lost isn't going to love everything you do; they might fall in love with the setting or a character for a certain reason from one thing, but not be into the next. For me, it was just about challenging myself in a different way, and not pigeonholing myself into one category of actor."
Stay tuned for Part Three, where Rob and Emilie discuss their on-screen fathers, how they got their New York accents, and their favourite sweet snacks!