Jade Goody And Her Sons Bobby and Freddy Are Christened At The Royal Marsden Hospital
Jade and Her Sons Bobby and Freddy Are Christened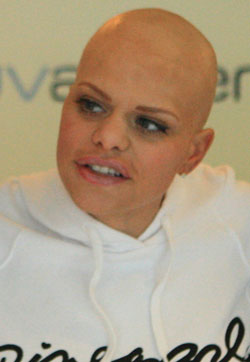 Jade Goody has been christened today alongside her sons Bobby and Freddy at the Royal Marsden Hospital in London, following reports that it may have to be postponed.
The service took place within the hospital, instead of the church they had originally planned, and was said to be "short and emotional". Jade's family, including her mum and her husband Jack Tweed, were present, as well as a few close friends.
Her publicist Max Clifford said:
"It was a very positive atmosphere, after each of the boys were christened everyone clapped and after Jade was christened everyone clapped again. It was a very simple service. There were prayers and blessings and a few short readings."
Jade has said that she wants her boys to be provided for after she's gone, and has used money from magazine deals to ensure this. The ceremony today was photographed by a celebrity publication, but Max said that this is the last thing she will do in the public eye. Our thoughts continue to go out to Jade and her family.