Jade Goody, Husband Jack Tweed And Her Sons Bobby and Freddy Prepare For Her Final Days
Jade's Family Prepare For Her Final Days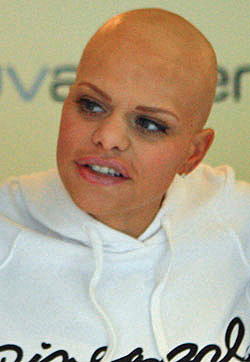 Jade Goody's family are preparing for her final days after her health deteriorated over the weekend. While her sons had their faces painted and made the most of the sunshine by playing outside with her husband Jack Tweed, Jade stayed inside, heavily sedated.
The family had planned on celebrating Mother's Day early, but Jade was too ill to enjoy the entire day with them. Her publicist, Max Clifford said:
"The boys went to see her and she was aware of them for a brief moment or two. She saw them and she smiled. She has put her house in order and faced up to everything in an incredibly brave way. Now we're waiting for the inevitable. It could be at any time, we just don't know."
She told her sons, "I'm going to be a star up in the sky so when you are looking up you will be able to see me and know I'm there, always looking over you. Mummy's going to be up there looking over you. Close your eyes and you can talk to me." Our thoughts continue to be with Jade, her family and friends at this painful time.