James Franco Talks Oscars in Playboy
James Franco Finally Talks Oscars — Makes Sense or Poor Excuses?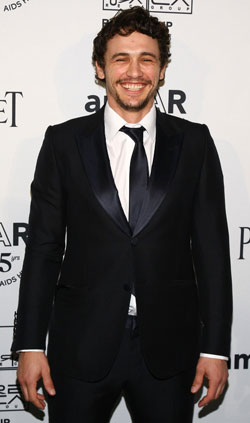 James Franco sat down for an interview with Playboy for its upcoming issue, and the actor had a lot to say about his Oscars hosting experience. He hasn't opened up about the criticism that his performance received until now, though his cohost, Anne Hathaway, recently shared her thoughts on the experience in Harper's Bazaar, saying, "In the grand scheme of things, I got to have a once-in-a-lifetime opportunity." James had this to say:
"As far as having low energy or seeming as though I wasn't into it or was too cool for it, I thought, okay, Anne is going the enthusiastic route. I've been trained as an actor to respond to circumstances, to the people I'm working with, and not to force anything. So I thought I would be the straight man and she could be the other, and that's how I was trying to do those lines. I felt kind of trapped in that material. I felt, This is not my boat. I'm just a passenger, but I'm going down and there's no way out."
So tell us what you think: does James's explanation make sense or is he just giving poor excuses for his performance?