Jason Momoa Instagrams About Daenerys
Jason Momoa Proved That Khal Drogo's Love For the Khaleesi Will Never Die With Another Adorable Instagram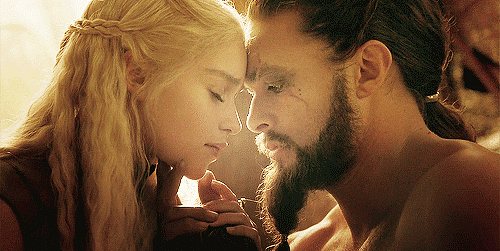 You might think you're the biggest Game of Thrones fan, but you're wrong; that title belongs to Jason Momoa, the actor who played Daenerys Targaryen's rugged Dothraki husband, Khal Drogo, before his untimely death. (Sorry to bring up such traumatic old memories, but we promise it's relevant!) Though his character's arc sadly came to an end at the end of season one, Momoa has followed the series closely and — like the rest of us — still carries a torch for Khal Drogo and his khaleesi.
Momoa has been watching the show religiously since its emotionally exhausting season six premiere and proved that Drogo's love for Daenerys will never die with a series of supportive Instagram snaps. "My baby holding it down," Momoa captioned one photo of Daenerys, who stopped a new khal's sexual advances by mentioning her history as Khal Drogo's queen.
In another snap of Dany's fierce speech, Momoa exclaimed: "That's right baby you tell him!"
After watching the most recent episode and seeing Dany's wild final scene, he posted an image of her emerging from the flames, writing "Don't f*ck with my boo."
Understandably, our hearts broke into tiny pieces. While we wish that Momoa (and thus, Drogo) were still on our screens for every Monday night episode, his sweet support for his former castmates is a pretty good consolation prize. Daenerys will always be the moon of Khal Drogo's life, and we're thankful he likes to remind us.