Jason Segel Interview About the New Muppets Movie
Jason Segel Talks Muppets, Amy Adams, and His Next Hollywood Dream
We were able to pay a visit to the LA set of The Muppets earlier this year, and the movie's mastermind, lifelong Jim Henson fan Jason Segel, stopped by to chat about life on the set with Kermit. The project was written by Jason and his partner Nick Stoller, and was brought to life with director James Bobin, leading lady Amy Adams, and a roster of talented puppeteers. Jason spoke about how he and Nick tried to make the film fun for both kids and adults, and revealed how happy he was to land Amy Adams as a costar. Jason, who at the time was finishing the Five Year script with Nick between scenes while logging an almost-regular workweek on the set of How I Met Your Mother, also touched on new Muppets, operating Fozzie himself, and what his next big Hollywood dream is. Jason said: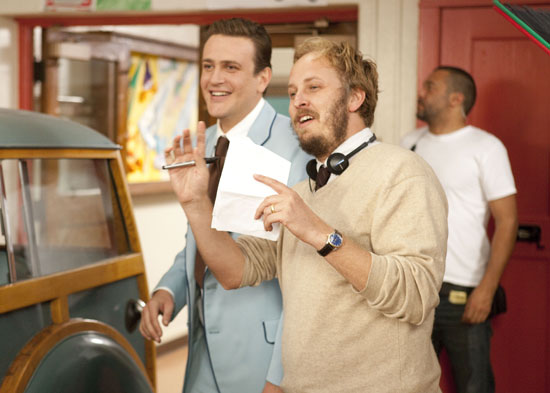 On people's perceptions of a Jason Segel Muppets movie: "I think maybe there was a moment of wariness that I was doing this with a sense of irony. Like there was a wink-wink about it — 'Oh, cute. R-rated Jason Segel is going to do the Muppets and make fun of it.' But as soon as we arrived on set and everyone saw that that wasn't the case, that this was coming from a very genuine and true place, we were all on the same team very very quickly."
On making a movie for kids and adults: "We're trying to harken back to the original three Muppet movies, The Muppet Movie, Muppets Take Manhattan, and The Great Muppet Caper. I think one of the things the original Muppet movies did amazingly well is that they don't condescend to children by feeling like they have to dumb things down to the lowest common denominator. And when you don't do that, you get a family film in its truest sense. An entire family can sit and watch and enjoy it. The worst equivalent is Barney the dinosaur where parents are having to sit there while their kids watch this and the parents want to blow their brains out. This I think is going to be the exact opposite. I think parents are going to be laughing as hard as kids are going to be laughing. We have jokes geared toward children and we have jokes that are geared specifically toward adults that go right over a kid's head. It's something that The Simpsons does as well. There's something very special about a family sitting down to enjoy something together — that was our goal."
On why Amy Adams is the perfect leading lady: "I wrote it for her. She was in my mind from the beginning, ever since I saw Enchanted. The role is very different, but first of all, she's like the best actress alive. To go from Enchanted to Doubt, and The Fighter, this woman can do anything. She's able to do this wide-eyed naiveté that is not part of her personality in real life —  she's one of the most smart, on-top-of-it women I've ever met. But she can do this kind of thing — my character and her character and Walter are true innocents. She's able to do that. She channels it through her eyes, and she can sing. She's totally game. She's up for it. She also really gets the jokes, so she was the perfect choice from the start. I don't know what we would have done if we hadn't gotten her."
On writing, filming TV, and filming movies at the same time: "I spent [ages] 21-25 totally out of work. And so now that I have a chance to do stuff, there's a part of me that thinks I'm not letting this opportunity pass by. You see it go away so quickly. It's so fickle. I like writing, I genuinely do. I get tired and all that stuff, but when you think about it, it's like the alien is going to burst out of your chest. When I get an idea it's kind of hard not to do something because it feels like the alien is going to burst out of my chest. I'm not good at setting it aside and saying I'll get to it eventually. I want to start writing it, even if it means staying up all night. It's tough to complain . . . I bought a house! What do I have to complain about, a little lack of sleep?"
Photos courtesy Disney
To read what Jason says about the new Muppet, more on the movie, and his one remaining Hollywood dream, just read more.
On creating a new Muppet: "Nick Stoller and I did. We wrote the script together, he's my writing partner. We invented Walter! We did not get to design him physically because then they would owe us a lot of money. So we came up with him on paper and then they were very clear that we could not be involved in any aspect in the physical design of Walter. But it is pretty crazy when I saw him and I knew he was born in our brains. It's like Nick and I had a little baby — with our brains."
On whether or not this movie would be a musical: "We knew it was going to be a musical from the start. All the Muppets movies are musicals. When you look back at the great lineage of the Muppet music, like "The Rainbow Connection." I mean that is not a joke of a song. That is a serious song. If a legitimate musician put out that song they'd win a Grammy. We really wanted the music to be great and James (director) was the perfect choice for this movie and it seems like he's been training for this."
On what Muppets we'll see again: "We're bringing out a lot of the Muppets from the archives. A lot of guys from the old Muppet shows, some of the kind of obscure performances make appearances. I can't give too many away, but there's some old favorites of mine . . . there's some really cool weird ones."
On improv from the Muppeteers: "There is! I did not expect that for a minute! These guys know the characters so much better than I could hope to. I could imagine what the character might say, but these guys have been playing them for 20, 30 years."
On operating a Muppet himself: "Yeah I just operated Fozzie a minute ago! I've done Fozzie, Dr. Teeh, and I've done Beeker so far. It's been amazing. That is what knocks your socks off. This is going to sound different from how I mean it — but my hand is inside Fozzie? That's amazing. I never thought that would happen!"
On taking pieces from the set home: "I really want a lot of stuff that I see around here. They're very protective certainly over the puppets, but I've gotten a few bits of paraphernalia that I'll save and treasure forever. Some really special photographs. Me with Kermit, shooting the . . . breeze? What's the the PG version of that? That's the greatest picture I've ever seen. I love it."
On Muppets not being puppets: "In the original script, I was a ventriloquist and Walter was my puppet. But one of the things you find out is that you really don't want to cross the line into mentioning puppet. It becomes very, very complicated because the Muppets and not puppets. Muppets are living creatures in this world, you know what I mean? So as soon as I realized that that made things really complicated to have a puppet vs. the Muppets . . . it became complicated, so we cut that aspect of the story and it actually really simplified the story."
On Walter's personality: "Walter is the sweetest little guy you'll ever meet. He's like Kermit. He's like a very young Kermit. He's naive and he's sweet. Walter's thing is he's never met anyone like him. Like I said you don't use the word puppet, but he's my best friend and we grew up in Smalltown, USA — that's literally the name of the town — and he's never seen anything else like him. Except for the Muppets on television. So his dream is to go meet the Muppets and maybe have a family. It really does have tones of young Kermit."
On the movie's bad guys: "There are some other new Muppets. Villainous characters — they're not specifically Muppets. They're not very nice, so they're not Muppets. But they're adorable. I love them. They're another great creation. I can't give too much away about them, but they're really cool."
On the movie being a lifelong dream: "Once [the studio] said they were going to make it, everyone in my life was like, 'All right! Whatever you need. Let's get this thing made.' Because I've had puppets and Muppet figurines in my house, in my bedroom, since I was a kid."
On making Muppets history: "I'm not an arrogant dude, but to be even the tiniest footnote in the Muppets lineage is nuts to me. That is insane! So I feel very honored."
On Hollywood stars requesting cameos: "I got a lot of calls, especially my contemporaries who have kids all wanted to be a part of it for their kids. The idea of bringing their kids to meet the Muppets, or even to be able to show them the movie eventually. People love the Muppets. There's a lot of Muppet love out there."
On the music: "Bret McKenzie wrote most of the songs, and we have a couple reprises of some of the old songs. I wrote one of the songs, but it's a jokier version. Bret really took the songs and ran with them, and they're awesome . . . but some of the lyrics are definitely adult-based."
On where we find the Muppets: "We've got them in varying states of success and disarray. Some are famous, some are . . . destitute is the wrong word, you're not going to see any destitute moments . . . but some aren't doing what they wish they were doing. Everyone is doing their own thing, and it's a bit of a struggle for all of them to come back and do the Muppet show again."
On his next big Hollywood dream: "I'd like to be president of the United States. No. I've like to play a villain in a superhero movie. I think I'd be really good at it. I'm like 20 percent creepy. I'm really am. I am 20 percent creepy, I exclude it from this movie. But when you watch Sarah Marshall, the Dracula musical is funny but it's 20 percent creepy. I really want to play a villain in a superhero movie."