Jay Z's New "Glory" Song Honors Blue Ivy Carter
Listen to Jay Z Honor His Baby Girl, Blue Ivy Carter, in "Glory" — and Read the Sweet Lyrics!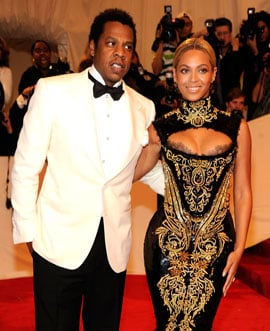 Jay Z wrote a song to honor his newborn daughter, Blue Ivy Carter! In record time, Jay got together the lyrics and music for "Glory," which even features some audio from the little one.
In the track, Jay refers to Blue as "God's gift" and "the most beautifulest thing in the world." The new dad rapped, "Words can't describe what I'm feeling, for real." He goes on to say "my greatest creation was you." He also writes about Blue's conception in Paris and alludes to him and wife Beyoncé having experienced a miscarriage in the past — take a listen below, and check out the full lyrics after the jump.
See the sweet lyrics when you read more.
The most amazing feeling I feel
Words can't describe what I'm feeling for real
Baby, I paint the sky blue
My greatest creation was you
False alarms and false starts
All made better by the sound of your heart
All the pain of the last time
I pray so hard it was the last time
Your mama said that you danced for her
Did you wiggle your hands for her?
Everything that I pray for
God's gift I wish I would have prayed more
God makes no mistakes
I've made a few
Rough sledding here and there
But I made it through
I wreak havoc on the world
Get ready for part two
A younger, smarter, faster me
Saw a pinch of hove
A whole glass of B
The most amazing feeling I feel
Words can't describe what I'm feeling for real
Baby, I paint the sky blue
My greatest creation was you
Your grandpop died of n*gga failure
Then he died of liver failure
Deep down he was a good man
God d*mn, I can't deliver failure
Bad*ss lil hove
Two years old shopping on Savile Row
Wicked-*ss little B
Hard not to spoil you rotten lookin' like little me
The most beautifulest thing in this world
Is daddy's little girl
You don't yet know what swag is
But you was made in Paris
And Mama woke up the next day and shot her album package
Last time the miscarriage was so tragic
We was afraid you'd disappear
But nah, baby, you magic
So there you have it, sh*t happens
Just make sure the plane you on is bigger than your carry-on baggage
Everybody go through stuff
Life is a gift, love, open it up
You're a child of destiny
You're the child of my destiny
You're my child with the child from Destiny's Child
That's a hell of a recipe
The most amazing feeling I feel
Words can't describe what I'm feeling for real
Baby, I paint the sky blue
My greatest creation was you