Jennifer Aniston Talks To Elle UK About Press Attention Following Her Split With Brad Pitt, Roles and Realism. Plus Cover Image
Jennifer Aniston Talks Heroes and Villians, Realism and Roles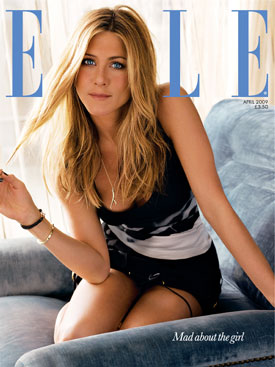 Jennifer Aniston is the gorgeous cover star of this month's Elle UK magazine, and she talks to the April issue about talking to the press, taking care of her body, and being a Bond girl. Here are some extracts:
On the press:"No matter what I say, things will always be taken out of context and misinterpreted, will always be turned around to make it seem as though I won't let something go, or that I just keep talking about it over and over. I don't owe anybody anything. I don't owe anybody my side of the story. There are no sides! There is no bad guy and there is no good guy. There are no villains and there is no heroine in this story. It's just not the case."
On life:"I remind myself every day that I am lucky. Look what's out there. Look what people are really living through. There's no comparison. I am happy."
On taking care of herself:"I'm a realist,' she says. 'I know that if I eat nothing but burgers and chips, I'm not going to be hired for the parts I normally would. That might be fine one day, but not right now."
On romantic roles vs action movies: "I get offered funny, quirky, pretty roles. I'd love to do an action movie. James Bond! Glamour! Daniel Craig! Shit-loads of fun!"

Until then she's got her new movie Marley and Me coming out in the UK on March 13, and you can read the rest of her interview with Elle in the current issue, out now. Stay tuned for pics from last night's London premiere featuring Jennifer and her costar Owen Wilson!