Jennifer Lawrence Pointing at Emma Stone at the 2018 Oscars
Just 2 Minutes Into the Oscars, Jennifer Lawrence Roasted Emma Stone Like a Real BFF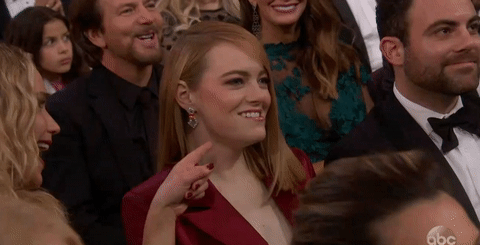 In a surprising turn of events, Jimmy Kimmel came back to the stage to host the 2018 Oscars after last year's best picture flub. But while everyone wanted to move on and forget about it this year, there was one person in the crowd who wasn't letting go — and that was Jennifer Lawrence. During Jimmy's opening monologue at the 2018 Oscars, he warned actors to "not get up right away" if they hear their name called. The camera panned to La La Land actress Emma Stone and a mysterious finger in her face. The finger, of course, belonged to Jennifer Lawrence, giggling and pointing at her friend Emma.
We all have that one friend who will call us out on our most embarrassing moments, and JLaw is most definitely that person. If you need a reminder about what went down last year (and then we promise we'll stop talking about it), best picture presenters Warren Beatty and Faye Dunaway mistakenly announced La La Land as the winner instead of the actual winner, Moonlight. Emma and the La La Land cast were about two minutes into their acceptance speech when things got reaaal awkward and the accurate cast was announced. Because everyone deserves a second chance, not only is Jimmy hosting again this year, but the best picture presenters will be back again.
Watch Jennifer and Emma's moment from the show below, and then gush over their adorable friendship photos.
Jennifer Lawrence laughing at Emma Stone is everything #Oscars pic.twitter.com/oQEQUcH50c

— TV Guide (@TVGuide) March 5, 2018