Joe Jonas on Demi Lovato, Miley Cyrus, and Ashley Greene
You Won't Believe What Joe Jonas Revealed in This Interview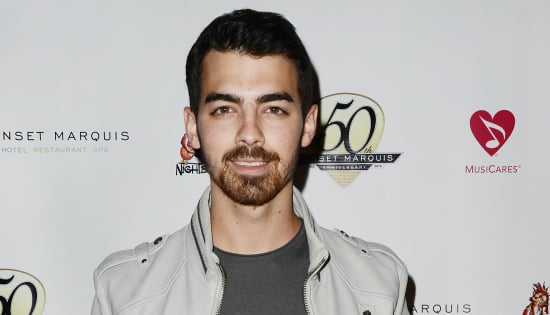 Joe Jonas gets incredibly honest about his time in the Disney machine in a new story with Vulture. The former Jonas Brothers star opens up about his relationships with famous women, including Demi Lovato and Ashley Greene, his experiments with drugs, and his struggles with his brothers leading up to the Jonas Brothers breaking up earlier this year. Read on for the most revealing and honest selections from Joe's interview.
Joe's Relationships
On dating Demi Lovato: "I really got to know her and got to see the ins and outs of what she was struggling with, like drug abuse. I felt like I needed to take care of her, but at the same time I was living a lie, because I wasn't happy but felt like I had to stay in it for her, because she needed help. I couldn't express any of that, of course, because I had a brand to protect."
His firsthand experience of Demi's 2010 breakdown in South America: "Things kept building up, and Demi ended up punching a girl in the face on a plane, because she thought the girl was blaming her for something. Everybody gasped, and the girl just started bleeding. That's when her team and her family told her, 'You need to go into rehab.' I remember being in South America, and fans immediately jumped to the conclusion that we kicked her off the 2010 tour, and they just hated on us for it."
On his date with a fan: "I remember I invited a fan to a movie, and we just made out the entire time. I don't even remember what the movie was about. I must have been 16 or so. Afterward, I was kind of freaking out, because I thought she'd go public and the whole world would find out. Luckily, she never did, I think because she assumed there'd be another meet-up down the road."
On those infamous promise rings: "We explained that we had made these promises to ourselves when we were younger. A few months later, it comes out that we're in some cult and that we're these little staged Mickey Mouse kids. People were coming up to us, saying, 'Thank you so much, I'm waiting because you guys are, too!' And we just thought, No! That's not what we're about."
Keep reading for more from Joe Jonas's interview.
He lost his virginity at 20: "I lost my virginity when I was 20. I did other stuff before then, but I was sexually active at 20. I'm glad I waited for the right person, because you look back and you go, 'That girl was batsh*t crazy. I'm glad I didn't go there.'"
While he doesn't name who he lost his virginity to, he mentions he started dating Ashley Greene at age 20: "When I was 20, I started dating Ashley Greene, and she was my first serious relationship. We were together for almost a year."
He isn't going to trash his exes: "I genuinely don't have any resentment against any of my exes. So I'm not going to disparage anyone I was in a relationship with—only I might put it in my music a little bit, and hint at it, and tease it here and there, just enough for the fans and the people who really know the story. But I'm not going to openly say, 'Yeah, actually, this person is a bitch, and she did this to me.' I don't feel the need to do that to sell records."
On Doing Drugs and Drinking
He first smoked pot with Miley Cyrus and Demi: "The first time I smoked weed was with Demi and Miley. I must have been 17 or 18. They kept saying, 'Try it! Try it!' so I gave it a shot, and it was all right. I don't even smoke weed that often anymore."
On getting drunk: "I was caught drinking when I was 16 or 17, and I thought the world was going to collapse. But I was in another country, and it was legal there. My 21st birthday, I fell down a flight of stairs. I was unconscious that time, and my whole team was scared to death that somebody was going to get a picture. Now I appreciate wine or a vodka-soda at the end of the day every once in a while."
Joe's Music Career
On the failure of his solo career: "I think there were a lot of cooks in the kitchen, and I think it was rushed, and I couldn't speak up because I was scared to. They wanted me to be this Justin Timberlake clone. Even one of the heads of Hollywood Records said, 'He's the new Justin Timberlake!'"
The Jonas Brothers wanted to be taken seriously: "We largely had a teen audience, and we've been on teen-pop magazines where you'd have to cuddle puppies. We wanted to be perceived as a cool band, one that plays its own instruments and writes its own songs, but a lot of people didn't notice that. Radio stations would be like, 'Whoa! Really? You brought guitars? Why?' All I could think was, You're kidding, right?"
On the Jonas Brothers' breakup: "The whole situation was breaking us up as a family, and we ultimately felt like we were holding each other back. I wanted to go sexier with a video, for example, and Kevin wasn't comfortable with that, for his reasons. I mean, he's married, and I get that. Nick also had a louder voice than me and Kevin when it came to music and major decisions—he took a leadership role in the band, which got to us after a while."