Johnny Depp Entertainment Weekly Cover
Even Johnny Depp Didn't Understand the Most Recent Pirates Movies
Johnny Depp donned his full Jack Sparrow gear to cover this week's issue of Entertainment Weekly. He is, of course, promoting Pirates of the Caribbean: On Stranger Tides ahead of the film's release later this month. Fans of the franchise were a bit disenchanted with the most recent Pirates films, and Depp admits that Dead Man's Chest and At World's End were convoluted and confusing — but he also explains why the newest sequel will be different (and much easier to digest):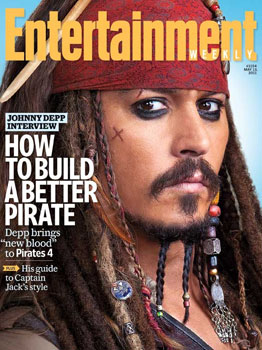 On why Pirates 2 and 3 didn't do as well as the original: "It was plot-driven and complicated. I remember talking to [Gore Verbinski, director of the first three films] at certain points during production of 2 or 3 and saying, 'I don't really know what this means.' He said, 'Neither do I, but let's just shoot it.' This guy is this guy's dad, and this guy was in love with this broad. It was like, 'What?'"
On having more say in the script this time around: "With this one, in terms of story, my involvement was a little more just because I felt if we were going to do a 4, that more than anything we owed the audience a fresh start, without all the complicated mathematics of 1 colliding with 2 and 2 colliding with 3. I felt it was very important to eliminate as many complications as possible."
On his mission for the fourth film: "Let's give them something character-driven. Something fun and irreverent. Hoops of fire and whatnot. New blood, as it were."