Justin Timberlake and Mila Kunis Friends With Benefits Junket
Mila Likes the Way Justin Sings "Happy Birthday" and He Talks More About MySpace
Mila Kunis and Justin Timberlake are entering the final stretch of their promotional tour for Friends With Benefits. The pair were joined by director Will Gluck, Jenna Elfman, and Emma Stone at Monday night's Friends With Benefits premiere in NYC, but last week they were in LA to chat about disrobing in front of the cameras and favorite films at the junket. Justin also briefly shared what he has planned for the future of MySpace. Here's more: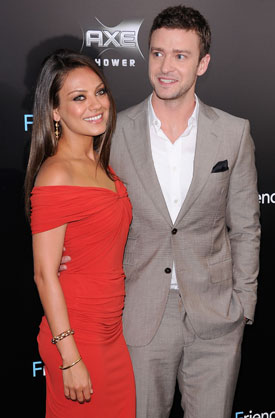 Mila, are you a fan of Justin's music?
MK: "[I like] the way he sings "Happy Birthday."
JT: "Pretty sure you're a big fan of my original compositions."
Mila, are your parents comfortable with the sex scenes?
MK: [laughing] "They're okay with it. They've seen it, I'm still here [alive.] No, my dad saw it. You know, he liked it. He thought it was very funny. He actually thought it was sincerely very funny and that he liked the movie. Yeah no, he liked it."
Mila, do you have any interest in joining Twitter?:
MK: "I do not tweet, nor do I Facebook."
JT: "Just say no. You don't have to explain."
Justin, do you gravitate towards self deprecating humor?:
JT: "[serious]Yes, I think my life is hilarious. I should not be here, and I am. I think my life is funny."
Have either of you ever borrowed a romantic gesture from a film?:
JT: "I thought once about playing Peter Gabriel from a boom box."
MK: "That would be awesome."
JT: "Yeah?"
MK: "Yeah, you should do it."
Did you workout more knowing you'd be naked?:
MK: "I did not."
JT: "She weighed 87 lbs. from Black Swan so she was just eating cheeseburgers."
MK: "Yeah, now I'm at the gym all the time don't get me wrong."
JT: "I train mostly all the time, I think what I do is stop drinking beer and [start] eating more vegetables and less pasta."
To see more of what Justin and Mila had to say just read more.
Justin, what were the sex scenes like?
JT: "There's not a lot of female nudity in this movie so my physical job in those scenes was to [cover Mila] make sure. . . whatever. I found out really quick what was in Mila's contract because I was covering it up. But I think we wanted those to be funny and we shared the camaraderie in that so it kind of took the weird air out of all that and we just sort of went for it."
Justin, what was it like working with Woody Harrelson?
JT: "Woody is amazing, Woody's just a fantastic actor and a great comedian, but I'm actually glad you brought that up because that's a really important part of the movie for me. Will and I had a lot of discussion about it. Woody's character in a lot of ways is an original on film to be able to portray a gay male in the way that he is. Coming from my experience, I have a lot of guy friends, straight and gay, and we're all just friends regardless of sexual preference. So I wanted that to be in the movie, and so we took some chances with it."
What romantic comedies did you watch to prepare for the role?
MK: Pretty Woman, When Harry Met Sally.
JT: Yeah, when When Harry Met Sally is probably a good one. You know Will kept referencing Spencer Tracy and Katherine Hepburn. . . I think it was only in reference in how he wanted the banter to feel. That these two were equal counterparts and that they couldn't see it and that's what makes you fall in love with their story as the movie progresses so you'll be like, 'You guys are perfect for each other, these two characters are perfect for each other' and they're fighting it and they're doing it through humor. . . We just wanted to make a comedy about our generation, we wanted to just say what was funny about our generation and I feel like we were able to do that."
What was important to interject into your characters?:
MK: "I think just being honest to the generation itself and not losing sight of that and not trying to please people or appease people, but just being truthful to what both Justin and myself and Will believed."
JT: "My favorite movie of all time, there's a quote from it, 'Yup, life moves pretty fast if you don't stop and take a look around once in a while you could miss it.' and I think that's part of our generation . . . I think that's why I feel like this is more a generational comedy. We weren't trying to make a romantic comedy. If anything, romantic comedies are by virtue not rated R so we wanted to make a real, situational comedy that two people happen to fall in love and then see if they can work it out."
Justin, can you tell us more about MySpace?:
JT:"I can't tell you because that would ruin when I get to tell you about it. But suffice it to say it's going to be what it should have been."