Kanye West's Feuds
Kanye West Is Feuding With Pretty Much Everyone Now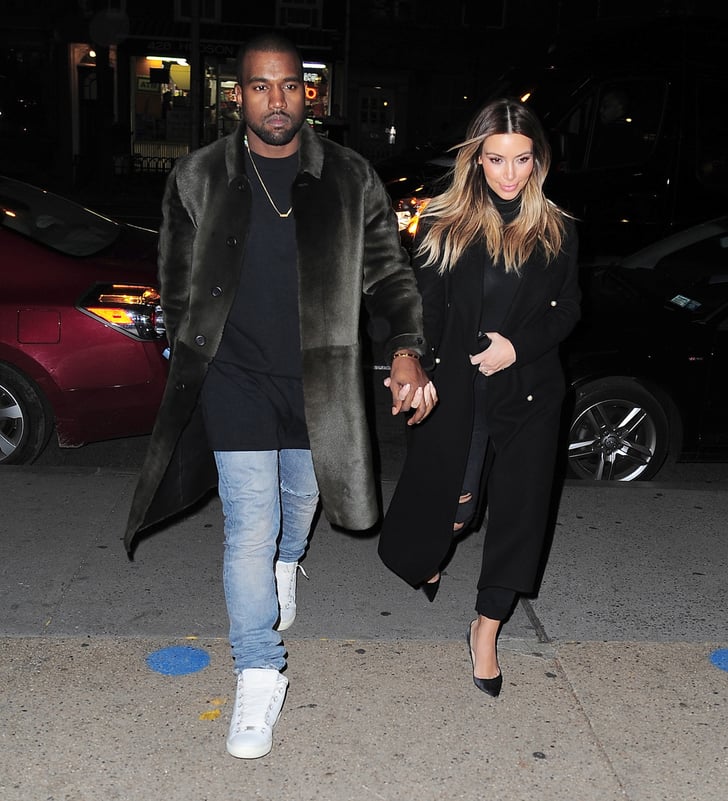 Kanye West is known for his musical talents, his relationship with Kim Kardashian, and his taste in fashion, but it's his ability to get involved in a feud with pretty much anyone that keeps making headlines. From Justin Timberlake to Taylor Swift, Kanye has rumbled with some of the biggest names in the world, and now the Anti-Defamation League is accusing him of antisemitism. Read on for our full guide to Kanye's many feuds.
Kanye West vs. the Anti-Defamation League
Who Started It: Kanye.
What Happened: During a radio appearance in November, Kanye went on a rant about President Obama and somehow ended up talking about Jewish people. He said, "Man, let me tell you about George Bush and oil money and Obama and no money. People want to say Obama can't make these moves or he's not executing. That's because he ain't got those connections. Black people don't have the same level of connections as Jewish people. Black people don't have the same connection as oil people." Later, the ADL accused Kanye of "classic antisemitism," adding that it hopes Kanye will "take responsibility for his words" and apologize.
How It Ended: The ADL shouldn't hold its breath waiting for an apology from Kanye, but we suppose there is still time for him to respond.
Kanye West vs.
Nike
Who Started It: Nike, maybe?
What Happened: Kanye previously had a partnership with Nike to design Yeezy sneakers, but he got angry when he saw that the company was letting Eminem and Pharrell design kicks as well. When Nike came around again for a new partnership, Kanye told them he wanted royalties, but was told that the company doesn't give royalties to people who aren't professional athletes. Kanye said, "I'll go to Madison Square Garden and play one-on-no-one! I'm a performance athlete."
How It Ended: Kanye ditched his partnership with Nike and announced that he will now be teaming up with Adidas.
Kanye West vs.
Louis Vuitton
Who Started It: Kanye.
What Happened: As Kanye tells it, he tried to meet with the head of Louis Vuitton but got blown off. Kanye said, "He said to me, 'I don't understand why we need to meet with you.' I said, let me explain to you why you need to meet with me. Everybody in New York City right now, don't buy any Louis Vuitton until after January. Now do you want to meet with me? Influence!"
How It Ended: It's obviously too early to tell if Kanye really holds the influence to make a dent in Louis Vuitton's sales in NYC, so we'll have to wait and see.
Keep reading for more of Kanye West's biggest feuds.
Kanye West vs. the CEO of Zappos
Who Started It: Possibly Tony Hsieh, the CEO of Zappos.
What Happened: In November, Kanye publicly revealed that Tony had given him unsolicited business advice, which Kanye found insulting, as he thinks Zappos sells "sh*t product." Tony responded a few days later by making a mock "Zappos.com Gear Sh*t Product," which included a shot of a toilet and plunger with a price tag of $100,000.
How It Ended: Kanye has yet to respond to Tony's jab, but we'll give this one to Zappos.
Kanye West vs. the creator of YouTube
Who Started It: Chad Hurley, the creator of YouTube.
What Happened: The feud started in November when Chad uploaded a video of Kanye's proposal to Kim on his new video app, MixBit. Kim and Kanye didn't take kindly to the video being posted, especially since it was reportedly being recorded by E! for Kim's reality show. The couple filed a lawsuit against Chad a week after the proposal, alleging that he was never invited to the proposal and that he had snuck in by tagging along with an invited friend. They also claimed that he had used their proposal to further his new business venture without getting permission.
How It Ended: The lawsuit is reportedly still pending, but Kanye and Kim kind of come out as the victors on this one.
Kanye West vs. Justin Timberlake
Who Started It: Kanye.
What Happened: Kanye ignited a beef between him and Justin when he made a reference to Justin's comeback hit during a performance in London back in February, where he said, "I got love for the Hov, but I ain't f*ckin' with that 'Suit and Tie' sh*t." Justin responded while performing on Saturday Night Live later that month, singing that his "hit's so sick, it's got rappers acting dramatic." However, Justin also said in an interview with Jimmy Fallon that he "absolutely loves" Kanye.
How It Ended: The two officially squashed their fight several months later in August when they had a chat before the 2013 MTV VMAs, where they both performed.
Kanye West vs. Jimmy Kimmel
Who Started It: Technically, Jimmy.
What Happened: In October, Kanye went on a Twitter rant against Jimmy after Jimmy aired a skit mocking Kanye's in-depth interview with BBC Radio 1. Some of Kanye's choice insults included likening Jimmy's face to SpongeBob SquarePants and mocking his famous joke about sleeping with Ben Affleck. Jimmy responded in a monologue on his talk show, saying that the skit was a benign joke and that he didn't understand Kanye's outrage.
How It Ended: The two ended their feud in November when Kanye went on Jimmy's show for a revealing interview. While neither celebrity apologized, they both ended up walking away from the fight smelling like roses.
Kanye West vs. an unnamed fashion designer
Who Started It: The fashion designer.
What Happened: Kanye revealed in June that a famous fashion designer gravely insulted him when he told him he would invite the star to his show as long as he didn't attend any other Fashion Week events. Kanye said his reaction inspired him to write "I Am a God." Kanye said at the time, "Man, I'm the number-one living and breathing rock star. I am Axl Rose; I am Jim Morrison; I am Jimi Hendrix. You can't say that you love music and then say that Kanye West can't come to your show."
How It Ended: Kanye never revealed who the designer was, but we're betting he learned not to mess with Kanye.
Kanye West vs. Taylor Swift
Who Started It: Kanye.
What Happened: Kanye became infamous at the 2009 MTV VMAs when he stormed on stage while Taylor Swift was accepting the award for best female video and went on a rant about how Beyoncé deserved the award more than Taylor.
How It Ended: Kanye apologized multiple times following the incident, including on his blog and on Twitter. He also reached out to Taylor after she appeared on The View two days after the incident, and she accepted his apology. In 2010, Taylor wrote a song about Kanye, titled "Innocent." It appears that both have moved on from Kanye's outburst, with Taylor making jokes about Kanye's onstage rant.
Kanye West vs. South Park
Who Started It: Trey Parker and Matt Stone, the creators of South Park.
What Happened: Back in April 2009, South Park aired a Kanye-themed episode, titled "Fishsticks," that mocked Kanye for being humorless and overly defensive. In the episode, Kanye gets increasingly angry when he thinks that people are calling him a "gay fish" because he said he liked fish sticks.
How It Ended: Surprisingly, this feud ended quickly and made Kanye look like the good guy. After the episode aired, Kanye took to his blog, writing that "it's pretty damn funny" but admitting that the show had hurt his feelings. In his 2010 song "Gorgeous," he made a reference to the show, rapping, "choke a South Park writer with a fish stick."
Kanye West vs. Evel Knievel
Who Started It: Kanye, sorta.
What Happened: In December 2006, Evel filed a lawsuit against Kanye for trademark infringement after Kanye referenced the daredevil's motorcycle stunt in his "Touch the Sky" music video. Kanye's team claimed that it was satire and thus protected under the First Amendment.
How It Ended: Just a few days before his death in November 2007, Evel and Kanye settled their lawsuit after Kanye visited Evel at his home. According to Evel, the two talked, and he found Kanye to be "a wonderful guy and quite a gentleman."