Kanye West Talking About North on Ellen Degeneres
Kanye: "People Make Fun of Me For How In Love I Actually Am"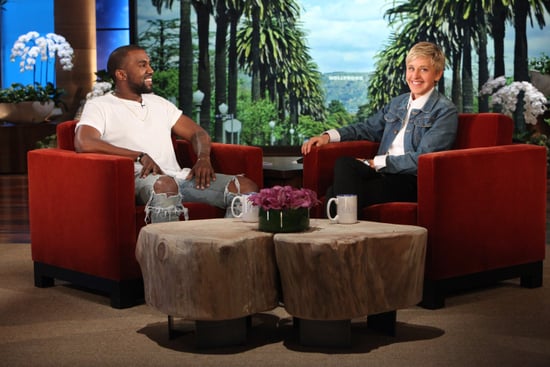 Kanye West proudly sported his "Nori" necklace and his new-dad grin for a visit to The Ellen Degeneres Show this week. The interview airs in Tuesday's episode, and it's where Kanye will be debuting his sexy new video for "Bound 2" starring none other than his fiancée, Kim Kardashian. Kanye gushed about both his girls, talked about why he went with such an elaborate AT&T park engagement, and accepted Ellen's latest cheeky gift.
A couple of Kanye's sweetest moments in the interview come when asked about Kim. Kanye smiled while saying "practice made perfect" on whether North was planned, but politely declined to share the most intimate details of his proposal with Ellen. Watch the cute clips, and see the whole interview when it airs Tuesday on Ellen's show.