Kate Hudson Interview About Her Career 2018
Everyone Listen Up: Kate Hudson Has Some Important Life Lessons We ALL Need to Hear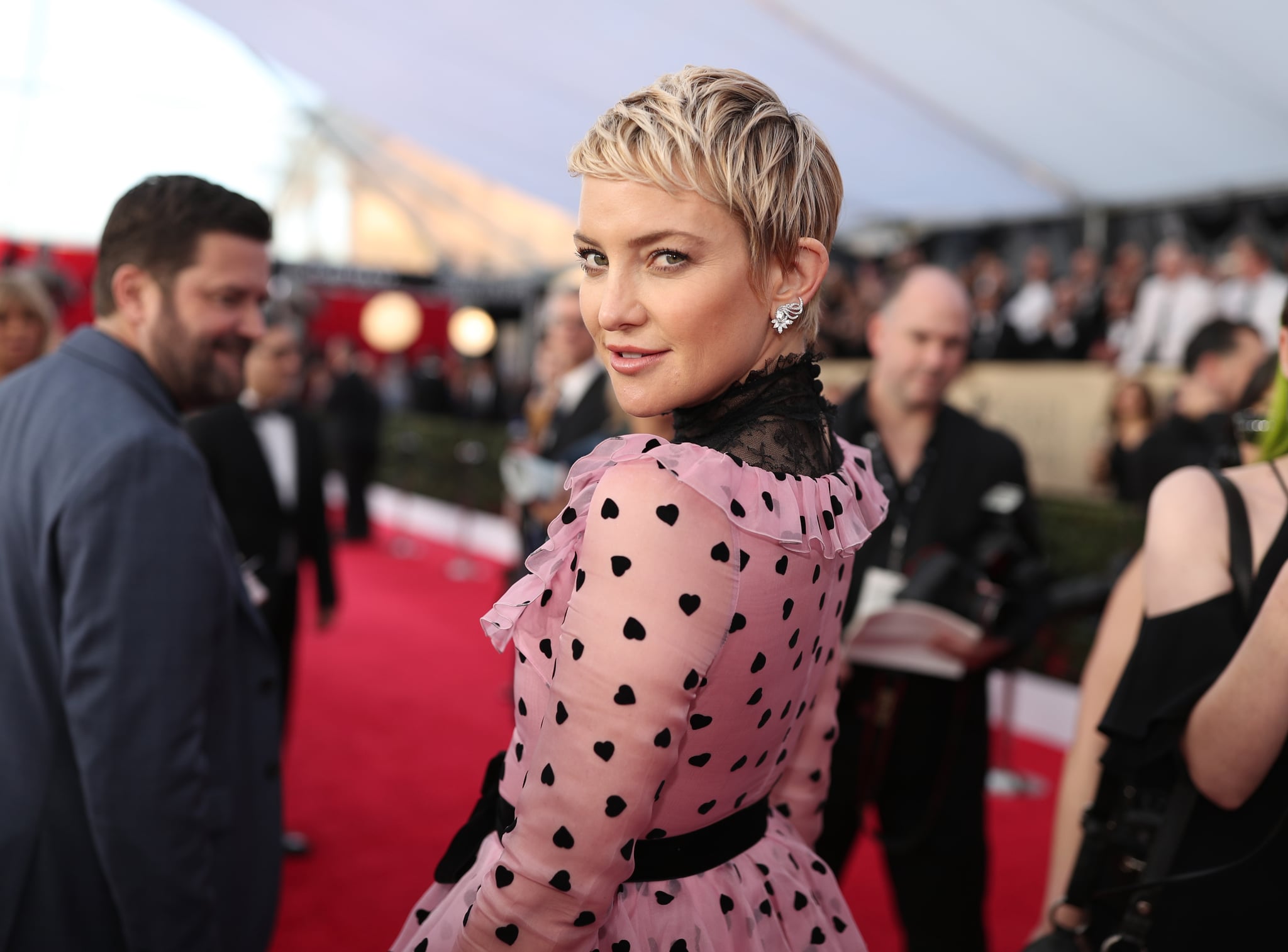 Image Source: Getty / Christopher Polk
Kate Hudson is truly a force to be reckoned with. The 39-year-old actress has been in the spotlight for as long as we can remember, thanks to her famous parents, Goldie Hawn and Kurt Russell. Throughout her time in the limelight, Kate has solidified herself as an A-list actress in Hollywood with starring roles in hits like Almost Famous, How to Lose a Guy in 10 Days, Raising Helen, Bride Wars, and Something Borrowed. In addition to her acting career, Kate has her own production company, Hail Mary Productions, and is a published author, a clothing designer, and a mother to two sons (Ryder, 14, and Bingham, 6) — with a baby girl on the way! Seriously, how does she do it all?
Oh, and just in case that isn't enough, Kate will also be speaking at our upcoming POPSUGAR Play/Ground festival on June 9 in NYC. Purchase your tickets now, and get ready to learn all about her impressive career trajectory and how Kate finds her happy. Can't wait until then? Get a taste of what's to come through Kate's exclusive interview with POPSUGAR ahead.
POPSUGAR: How has acting made you a more savvy businesswoman?
Kate Hudson: The better comparison would be producing, as acting is a completely different world for me. With producing, you're developing and creating projects from start to finish. In both entertainment and business, it's as simple as the connection of telling a story. First you have a spark of an idea, and from there you have to create the infrastructure and get that story out there in a way that people can relate to it. That's a tool I learned early on because I've always wanted to be behind the camera, not just in front.
PS: What up-and-coming businesses are you impressed by right now?
KH: There's a couple of them, and one is Peloton. The company has done an amazing job at creating a product in the wellness field that's really a "no excuse" type of exercise that doesn't actually take too much time out of your day, and you can do it in your house. Even though it feels expensive, if you're someone who works out constantly, in the long run, I think it would save you money. Their marketing and content is A+, and I think it's going to be an enormous business.
PS: How do you get inspiration when designing your fitness apparel?
KH: Inspiration is the easy part, and narrowing down the vision of the inspiration is the hardest. For me, as a creative person, there is inspiration everywhere — anything from the shape of a leaf or a song on the radio. It's all about the fabric, the colours, where and when to tell the story, as well as how. For example, I like to bring colour into Fall/Winter, but you have to keep in mind the fabric, how much colour you bring in, and how all of those elements are going to work with the shape of what you're designing. We do this monthly, not seasonally, but we also look ahead to the entire year to make sure we are also telling a nice, comprehensive story to ensure that it is fluid.
PS: When and how did you decide you wanted to go in the fitness apparel direction?
KH: Nothing that has happened in my life has been calculated, so it's not something I thought of. For me, it happened very organically. I've always known that I've wanted to get into business and design, so when I started getting interested in things outside of the entertainment industry, I wanted to focus on fashion, home design, and wellness, as they were always things I've been passionate about.
Someone recently said to me, "You're a really curious person." And that's a correct assessment. I am curious. So when you ask a whole lot of questions, you find yourself in places you never thought you'd be. With Fabletics there wasn't a market serving everyone — there wasn't a place where you can get awesome, well-done leggings for under $150. We then formulated ideas to solve a way to satisfy this market and ended up creating Fabletics.
PS: What is the best career advice Goldie has given you?
KH: It's funny, because everyone asks about my mom, but my dad, Kurt [Russell], is also in the entertainment business. I always find that interesting that my dad is never included in that question. But the reality is that my mom and I talk about different things, like relationships, friendships, and everything, really. The last thing we talk about is business. We talk a lot about balance and the importance of connection. The last thing on our list to ever talk about, even when I was younger, was career advice. People talk all the time about how we are close. One of the reasons I am so close to my mom is that she gave me the freedom to let me be who I am, and giving "advice" is far from how she parented. Same with Kurt, for that matter.
PS: Of all the people you've worked with in your career, who has had the biggest impact on your life?
KH: This is kind of an unfair question because I've been so lucky to have been able to work with so many amazing people. It is safe to say that Cameron Crowe was the one who gave me my first meaty role, as Penny Lane in Almost Famous, which ended up being a career-expanding role for me. Along the way, I have worked with so many incredible people, and it's not even about the success of the films. It's about the people I've shared ideas with and all of the lessons I've learned along the way. I have such gratitude for all of the people I've been able to work with throughout my career.
PS: How do you block out negativity in your life and stay focussed on being you and accomplishing your goals?
KH: By having a very strong foundation at home. A wise man once said to me, while talking about the pyramid of life, that at the top of the pyramid is your physical/mental health, and then it goes down to your relationship with your partner, your relationship with your kids underneath that, then your family at large, your career, and, lastly, community at large. As you look at this pyramid, you realise that when your physical/mental health is being taken care of, it lets the rest of the pyramid exist in great ease. Your relationship is in place, you have time for your kids, and then there's the family at large, which helps you see what you want out of life — how much you want to work, how hard are you working to get where you want to be, etc.
The balance starts with connecting to your own physical/mental health, and when you have children, it is hands down the best way you can see the success of how you're balancing your life. When you're successful at balancing your life, you can see it reflected in your kids. Kids are the great barometer for balance.
PS: What's been the best surprise throughout your career?
KH: When you do what I do for a living, it's always a surprise. From successes to failures, it is endless. I entered the world of surprise, and that's why my production company is called Hail Mary Productions. It's like throwing out an idea and seeing who catches it. It is always a surprise.
PS: What is your favourite workout to do while pregnant? Has each pregnancy been the same workout or different?
KH: I don't do yoga as a regular practice, but lately I've been doing yoga with the most wonderful prenatal yoga instructor, Desi Bartlett. It's been my favourite thing. I just love it because its focus is all about what's in the best interest for your baby, with what is going on in your body right now, to better support my baby girl. I push myself, but it's really intuitive and all about listening to your body to get yourself ready for birth instead of focusing on what your body does or will look like. I've really enjoyed this pregnancy so far, and I'm taking it very easy.
PS: Any unusual cravings with this pregnancy?
KH: I've had cravings with my other kids, but I don't have any cravings with this pregnancy. At the beginning, I was so sick that all I could eat is carbs, but I'm eating normally at the moment.
PS: Now that you know you are having a girl, how are you preparing differently?
KH: I'm not. The only difference is that I now get to buy girl clothes, which is really fun. I remember when I was a kid, as the only girl, all I wanted to do is hang with the boys, and when people would ask if I wanted to play with dolls, I was like, "No, I want to play dirty." I honestly don't know what to expect. Whoever she is and whatever she leans towards, I'm open, and I'm going into this with an empty slate. Right now, when I see the tiny jumpsuits, the girlie onesies, and the little dresses, I go completely out of my mind. I've spent 15 years with boys' clothes, and now I can finally walk into a kids store and get something girlie. But when it comes time for her to enter this world, I'll take her lead.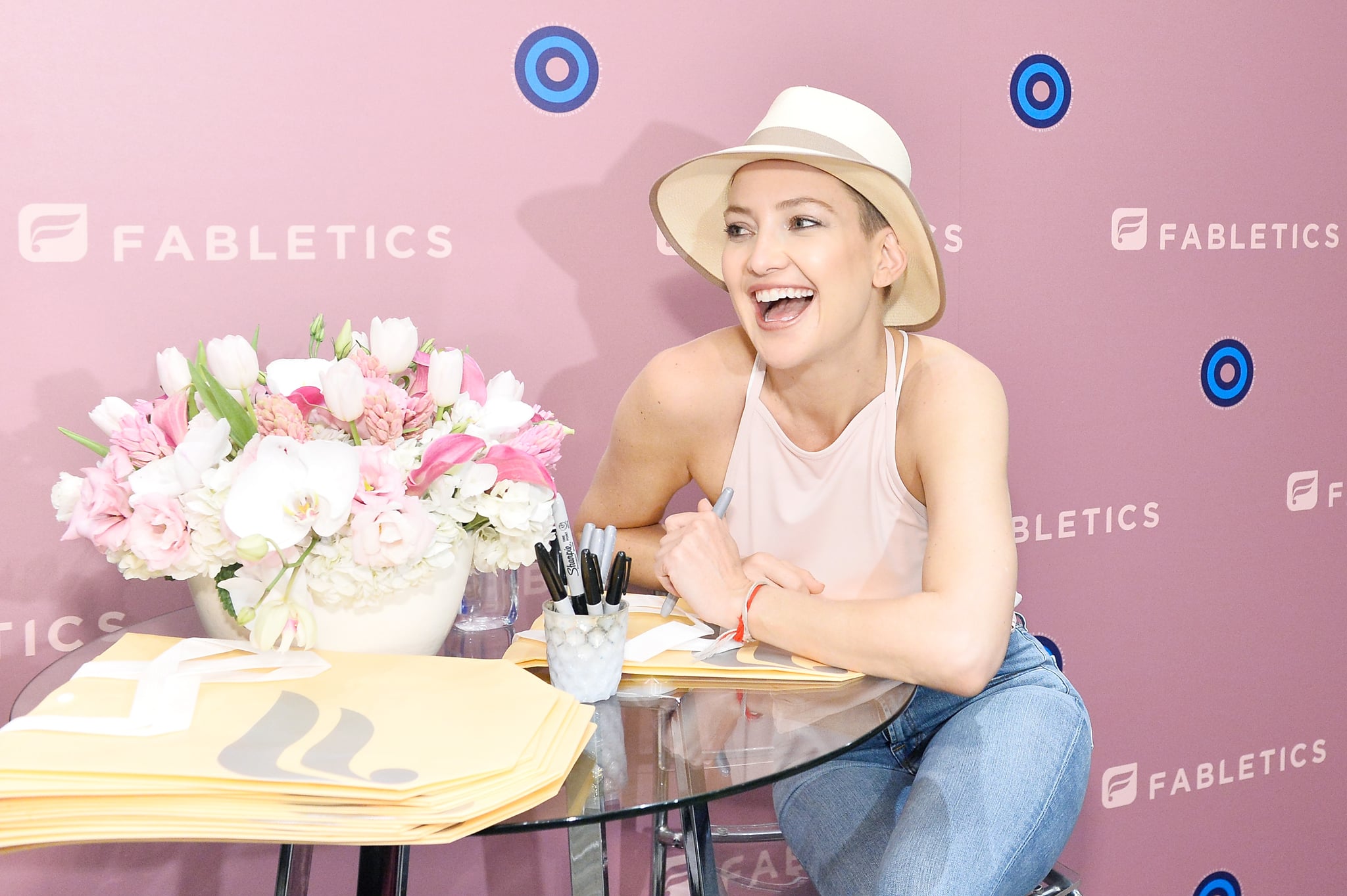 PS: What advice would you give to a woman in their 20s?
KH: I was busy working and being a mom in my 20s, but it also didn't stop me from having fun. What drove me crazy in my 20s is when people tried to tell me what to do in my 20s. I wanted to do what I wanted, and if I made mistakes, then I would learn. My advice would be to not let people tell you what you should or should not be doing. Just do what works best for you. Your 20s are going to be filled with mistakes, and as long as you don't hurt yourself or others (breaking a couple of hearts or having your heart broken here and there will happen), I say experiment and see what works for you.
PS: What do you make time to do for yourself every day?
KH: Meditation is something I try to do every day. Also, at a certain point in the day, usually in the late afternoon after school is out, I shut everything down to be at home with my kids.
PS: On days or in moments when you feel insecure, how do you pump yourself up?
KH: I feel like people who say they don't have insecurities are robots — everyone has insecurities. If I'm feeling insecure, I dig a little deeper and ask myself, "Why do I feel this way?" to see where this is coming from, because it's never really what you think it is. My biggest insecurity is singing live. It's paralyzing, and I have so much fear, and it wasn't until I pinpointed where it was coming from that I finally started to feel at ease singing for an audience. Insecurity is always something that's going to be bigger than being able to just "pump yourself up" with a quick fix. You have to pinpoint why you feel this way, and once you do, the way to "pump yourself up" is by realising that it is not the story of your life. You don't own the insecurity and have to keep telling yourself, "What's the worst that can happen?" The other great thing that Kurt and my brother Oliver have always said is whenever you're feeling insecure, there are 9 billion people in the world who don't give a sh*t.
PS: What three things are on your current bucket list?
KH: Travel to India with my mom, direct, and go trekking in Bhutan.
PS: Which room of your house is the cleanest and messiest?
KH: The cleanest room in my house is probably our living room. The messiest room is my closet and the bathroom — that's the worst room because for some reason, everyone always ends up in my bathroom. My kids' clothes are on the floor because they love using my bath and shower, and they also use my hair products. Sometimes I'll walk into the bathroom and my feet will stick to the floor because they got styling wax all over it.
PS: What is something bizarre you've seen in the comments section of your social media?
KH: The comments that I think are bizarre are when people ask questions that are provided in context. For example, I'll post a picture wearing a shirt and write about how the shirt is from Urban Outfitters, and people will comment things like, "Where did you get the shirt?" It's then I realise that wow, people really don't pay attention. It happens all of the time, and I find that so bizarre.
PS: What does "finding your happy" mean to you? Do you feel you've "found it"?
KH: I always say that happy is subjective. For me, I think that my happiness comes from feeling an internal sense of freedom. To me, finding that takes effort and some hard internal work, but when you really feel freedom, there's nothing like it!
PS: What powers your happy?
KH: Family.
PS: What's your guilty pleasure?
KH: Being able to lay out in the sun and get a tan.
PS: What's your favourite curse word?
KH: Sh*tcan.
PS: Where is your happy place?
KH: My music studio.
PS: Heels or flats?
KH: Heels, but right now flats.
PS: What is the one thing you can't leave home without?
KH: I leave home without everything. When I'm travelling, I'm the kind of person who gets in the car and makes sure I have my passport, wallet, and cell phone. If I have those things, the rest can wait.
PS: What is your favourite junk food?
KH: French fries.
PS: What is your favourite healthy food?
KH: Seaweed.
PS: What show are you currently binge-watching?
KH: The Handmaid's Tale.
PS: What is your favourite workout?
KH: Pilates.
PS: What is your favourite thing to splurge on?
KH: My bed sheets. A well-made bed is everything.
PS: What is your feel-good music?
KH: I love all music, but happy music to me is reggae.
PS: What is the first thing you do when you wake up?
KH: Put on Morning Joe.
PS: What is the last thing you do before going to bed?
KH: Kiss my kids and my man.
Want to get up close and personal with Kate at POPSUGAR Play/Ground on Saturday, June 9? Get your POPSUGAR Play/Ground tickets now!