Katy Perry in Billboard Magazine Sept. 30, 2013
Katy Perry Is "More of a Joni Mitchell" Than a Judy Garland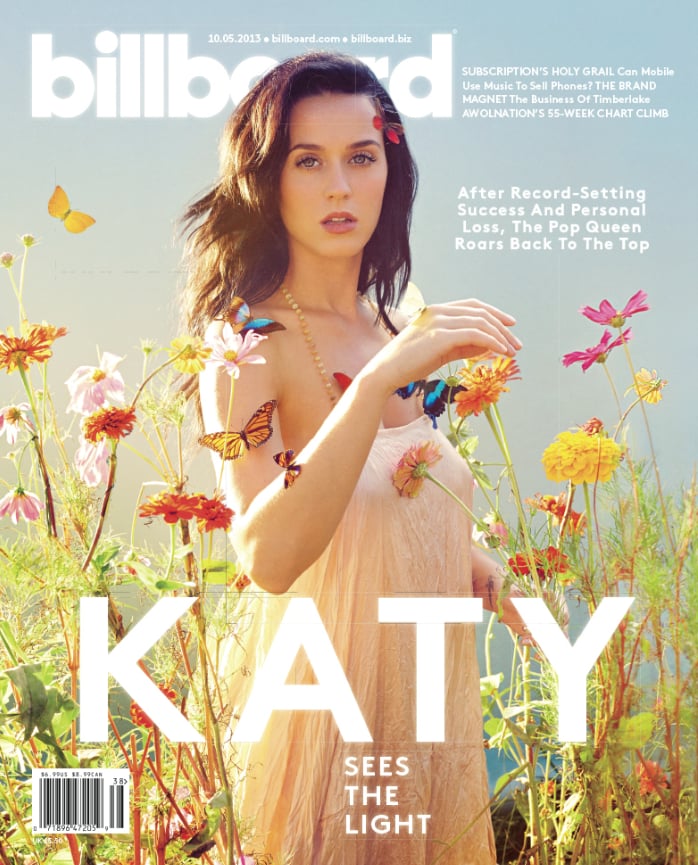 Katy Perry graces the cover of next week's Billboard magazine, which hits newsstands on Sept. 30. In the issue, Katy talks about her upcoming album, Prism, which has already spawned a No. 1 hit with the single "Roar," and touches on the change in sound from her previous work, saying, "I didn't want to do Teenage Dream 2.0. Prism is more organic, au natural, vulnerable and honest, but still has the same amount of fun." The star also opens up about her marriage to Russell Brand and an ill-fated interview that saw her catching some shade from a big name. See more candid quotes from Katy, including her admission that she's "just masquerading as a pop star," from the Billboard interview:
On the songs she wrote for Prism: "All the songs are real-life moments. I can only write autobiographically. I put all the evidence in the music. I tell my fans if they want to know the real truth about stuff, just listen to the songs."
On her boyfriend, John Mayer: "He literally is a genius, as is evident from his songwriting. I always tell him, 'Darling, you know I'm going to have to give your mind to science after you've passed, because we're going to have to understand how all these sparks work.' When he puts his mind to something, he really gets it done very well. I always ask for his help."
On a Barbara Walters interview she did shortly before her divorce to Russell Brand: "I shouldn't have done [it]: I was playing Madison Square Garden that same night, and I knew that the end of my marriage was coming. I was just exhausted and stressed. I'd prepped everyone that I was running late, but Barbara Walters showed up at the original time anyway. When I got there, I apologized immediately, but then she said to me, 'You know, I've only ever waited for one other person this long, and you know who that person was? Judy Garland. You know how she turned out, right?' I was like, 'Oh, snap! Yes, b*tch!' I think it's the coolest thing that Barbara Walters shaded me. I just couldn't tell her as we were sitting down for a mega-interview, 'Hey, my marriage is falling apart. Give me a break.'"
On where she sees herself in the future: "I'll probably turn into more of a Joni Mitchell. As I inch towards my 30s, I think my fourth record will be more of an acoustic guitar album. That's where I started when I was first discovered and got my first record deal. We'll see — I can't get ahead of myself. I'm still doing the work: I'm a good balance of left and right brain, and to be an artist with a long career, you've got to have both. One thing John [Mayer] said to me was, 'It's harder maintaining success than finding it.' I've got a few records under my belt, and I still feel like a brand-new artist. People still want that truth to cut through."