Keira Has Specs Appeal For Comic Relief
Keira Knightley sports some iconic glasses in a new Comic Relief advert, where she models one of the charity's latest Stella McCartney-designed t-shirts with famous specs wearer Eric Morecambe and Ernie Wise printed on the front. She also ventured out to the shops recently in some slightly sleeker framed glasses, wandering around the shops in her gorgeous checked coat. It's great to see big stars like Keira, Josh Hartnett, and cover star Gwyneth supporting Red Nose Day 2009!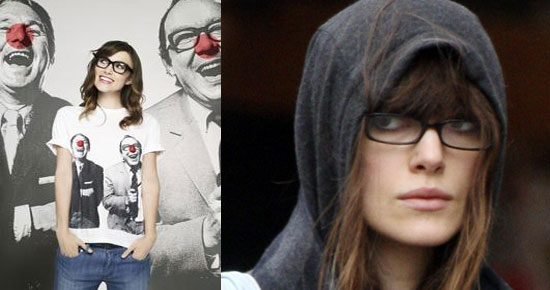 To see more photos of Keira Knightley out in London, and to find out where you can pick up a t-shirt like hers, just read more.
The shirts are from £9.99 for adults, and will go on sale on Monday at TK Maxx, with all net profits from sales going to Comic Relief. So it's a guilt free purchase!