Keira Knightley Interview on Michael Fassbender, Jude Law
Keira Knightley Compares and Contrasts Costars Jude Law and Michael Fassbender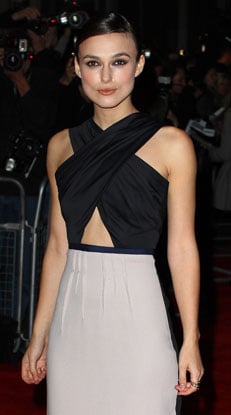 Keira Knightley stars as patient-turned-psychiatrist Sabina Spielrein in David Cronenberg's A Dangerous Method, which expands into theaters across the country this week. The film came out in limited release last Fall, and quickly earned notoriety for the racy sex scenes Keira shares with her hot costar Michael Fassbender, who plays Carl Jung.
Yesterday, Keira spoke about working with both Michael and David. Keira shared excitement for the critical acclaim Michael's earned for another daring performance in Shame, a movie she liked quite a bit. She also spoke about her other upcoming projects, Seeking a Friend at the End of the World, the directorial debut from Lorene Scafaria featuring Steve Carell, and a remake of Anna Karenina. The later film sees Keira paired up with director Joe Wright for the third time, after Atonement and Pride & Prejudice, as well as leading man Jude Law. Keira said:
On having reservations about the spanking scenes in DM: "I was 95% going to say yes as soon as my agent said, 'Look, David Cronenberg is going to offer you a film.' . . . I did have reservations about the masochistic scenes. I actually spoke to him about it and said, 'I love the script, but I'm not sure I can do this because of these scenes. I'm not quite sure I want to go there.' And he said, 'If that stops you playing the part, that would be a tragedy so let's just take them out.' And I thought that was an amazing thing for him offer. We just talked and talked, and once he's made it clear he didn't want it to be voyeuristic and sexy, he wanted them to be kind of more clinical, I thought I might as well go for it."
On similarities between Jude and Michael: "No! No. Jude's a proper actor — he's wonderful to work with. He's a proper actor, I mean they all are . . . Michael works in a much more muscular way. Everything turns into muscle memory. He works a script, and works a script. Jude does a lot of theater so he comes from the preparation side — like a rehearsal room. He's really open to it, and he asks a lot of questions on that day. He's just phenomenal. So no there aren't any similarities, but they're all very good actors."
On first-time director Lorene: "She's just fab — she's great. She's completely the reason I think everybody signed up to do the movie. The script was wonderful. It was one of the best scripts I've ever read. The dialogue was brilliant, and the concept behind it was amazing. I haven't seen the finished article yet. I'm seeing it [today] so that's really exciting. She's an amazing woman, an amazing talent. On set, to think it was her first film — you'd never have guessed it. She was so cool, she knew exactly what she wanted, she was unbelievably fast, she was completely amazing. So hopefully it will work!"
On what she's excited to see succeed during award season: "I was really excited about Shame, because given the nature of it and the subject matter of it, quite often those ones get passed by. I think Meryl Streep in The Iron Lady. That performance was amazing. That was very good. I haven't seen The Artist yet, but I'm really looking forward to seeing that."
To read Keira's thoughts on Michael in Shame, working with the "lovely" Steve Carell, and wrapping Anna Karenina, just keep reading.
On Michael's work in Shame: "I have seen him in Shame. I think he's amazing. I saw him in Hunger as well, and he got quite a lot of awards for that one as well, which was completely right and justified. He's a phenomenal actor, and I think his performance in Shame is amazing. Talk about brave. I think it's wonderful."
On learning about psychiatry for DM: "I knew nothing about it. The script came through my door and I just thought it was totally fascinating. Obviously, I'd heard of Freud and Jung but I'd never heard of Sabina Spielrein. I really knew very little about any of them. It was really just an amazing opportunity to read as many books as I could in the couple of months before I started and really delve into that world. And it was fascinating."
On bring surprised by the amount of press the DM spanking scene received: "This time in New York, people aren't really talking about it. They are a little bit, but not as much as I thought that they would be. It goes to show how well the film's been received and how fascinating the subject matter is. That is an interesting part of it, and I was interested by it because I didn't understand why people would want to do that or what the vibe is and what she was getting out of it — the fact that the subject itself is so fascinating. What's more shocking about the character is what's going on in her head rather than the spanking scene."
On cracking up while working with Steve Carell: ""He's just lovely. He's such a lovely man. I was quite frightened, because I haven't done comedy before really. I was kind of going, 'It's terrifying, I don't know how to do it, I don't even want to do it!' He was such a sweetheart."
On finishing up Anna Karenina: "I wrapped before Christmas. They've got, I think five more days to go. They're going to Russia for five days. Yeah, it's pretty much in the bag."
On working with Joe Wright for the first time: "We do have a shorthand, but it doesn't get easier. Neither of us are people that are looking for the easy option. We're always looking for something that's going to be more difficult or more challenging. Taking on Anna Karenina is a certainly massive challenge. Partly because it's an 820-page book and you're trying to get it down to, well, a 130-page screenplay."