Kelly Clarkson Meeting Steve Carell at 2018 Golden Globes
The Hilarious 40-Year-Old Virgin Reunion You Probably Missed at the Golden Globes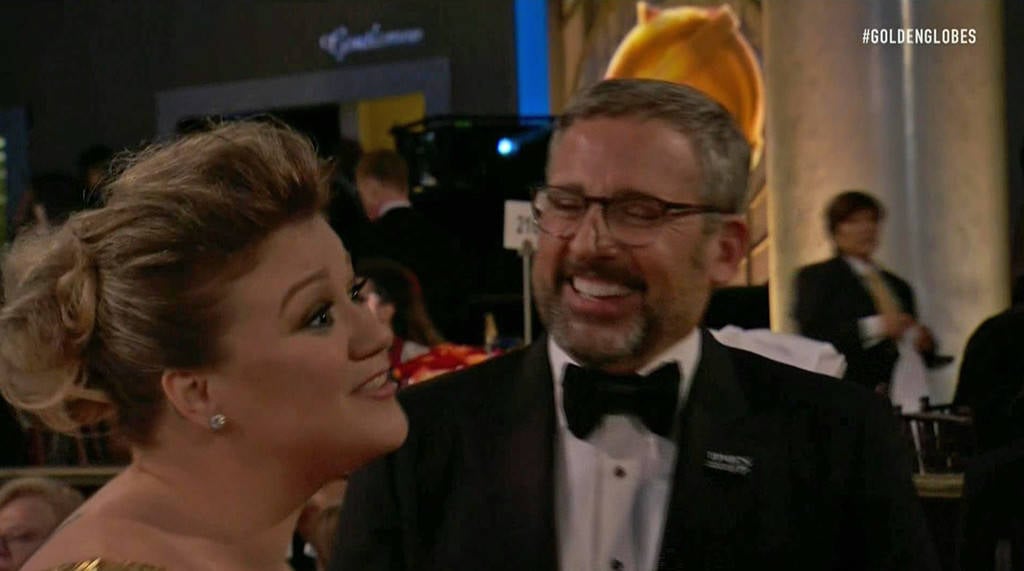 Image Source: NBC
There were quite a few nostalgic reunions at the Golden Globe awards on Sunday night. In addition to the adorable leads from The Fault in Our Stars hugging it out and two unexpected Harry Potter costars sharing the stage, there was also a connection involving the 2005 comedy The 40-Year-Old Virgin. While we wish we could relay a fun story about Jonah Hill reconnecting with those sparkly silver boots, the moment in question actually happened between Steve Carell and Kelly Clarkson.
Now before you get all "Um, sorry but Kelly Clarkson wasn't in The 40-Year-Old Virgin!" with me, yes, she was. Well . . . technically. Remember this?
Image Source: Universal Pictures
All these years Kelly Clarkson has had the infamous scene quoted back to her — in which Carell undergoes an excruciatingly real chest wax on camera and painfully screams out her name — but she'd never gotten the chance to laugh about it with Carell in real life. In fact, she joked about the hilarious quote back in Novemeber during an interview with Today's Willie Geist.
"I have yet to meet Steve Carell and I want to be like, 'So, was it a compliment?' Like, I dunno, like, you're in pain and you think of Kelly Clarkson," she said. "It was pretty hilarious. I do feel gypped though, 'cause I never met him and I'm a huge fan."
Fortunately, that was corrected at the annual award show when the "Love So Soft" singer bumped into the Battle of the Sexes actor and his wife, fellow actress and comedian Nancy Carell. We can't be sure exactly what was said between the trio, but judging from the couple's smiles, Clarkson had them both in stitches.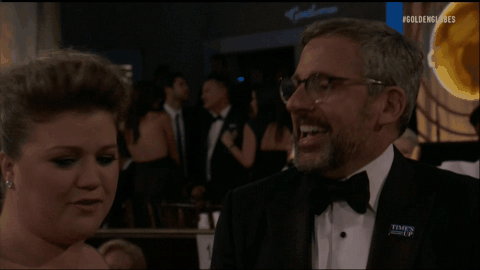 Image Source: NBC
Of course, that wasn't the American Idol alum's first fangirl moment of the night. In the midst of an interview with Ryan Seacrest on the Golden Globes red carpet, Clarkson had a minor panic attack when Meryl Streep walked by. "Can I meet you?" she adorably asked the acting legend, before racing down the stairs for a quick chat.