Kim Kardashian Pregnant
Kim Kardashian and Kanye West Are Expecting Their First Child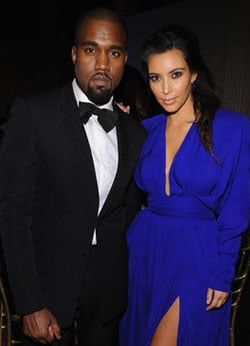 Kim Kardashian and Kanye West are expecting their first child together! Kanye made the announcement on Sunday night during his concert at Revel in Atlantic City. Kanye stopped his performance, pointed to Kim in the audience, and said, "Make some noise for my baby mama." Kim confirmed the news this morning on her personal blog, noting, "It's true! Kanye and I are expecting a baby." Kim continued, "Looking forward to great new beginnings in 2013 and starting a family."
Kim and Kanye began dating earlier this year, although the two had been friends for several years. Kim's sister Kourtney Kardashian tweeted about the happy news shortly after Kanye made his announcement, saying, "Been wanting to shout from the rooftops with joy and now I can! Another angel to welcome to our family. Overwhelmed with excitement!" Khloé Kardashian also joined in the celebrations over Twitter, tweeting, "Keeping secrets is hard with so many family members."
Congratulations to the happy couple!