Kristen Stewart LA Times Welcome to the Rileys Interview 2010-10-28 01:00:00
Kristen Stewart Talks About Fame, Fans, and Putting Too Much Pressure on Herself
Kristen Stewart made the rounds to promote Welcome to the Rileys last week with a stop by Live With Regis and Kelly and a sexy appearance at the film's NYC screening. Before she switched gears to get started filming Breaking Dawn, Kristen talked to the LA Times about her racy stripper role, being uncomfortable with the media, and her attitude towards fame. Here's more: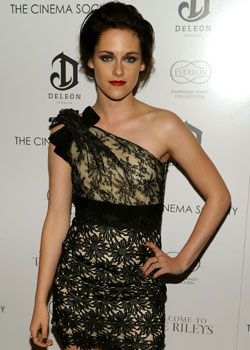 On the attention from fans: "It's strange when you become a novelty, it's sort of like, 'Yeah, sure. Go put this on your Facebook so your friends can laugh at it.' Because that's what they will do. And I usually say no to people like that, when they're like, 'Yo, yo, can I get a picture of you?' And it's like, 'No, … you,' '' she said, interjecting an obscenity. "That's what I'm thinking."
On being in the media: "I don't have a personality fit for television. I just don't. Even when I really feel like I've had fun with something and been totally fine and we talked about stuff that I thought was interesting — even then. I don't know. It's getting easier. It used to be a lot worse. And it's totally my fault, too. I guess I just put too much pressure on myself before, and it showed."
On media training: "Basically, they told me that I should be ready for any question that's thrown at me, and I should have a stock answer, because then it won't confuse things and you'll never be caught off guard, and there's no way to do that. There's no way to be prepared for a conversation with someone you don't know about something that means the world to you. I love my job, and because of that, I need to protect it."